Teacher Sharing is Caring, Especially When PLC Protocols are Involved
Educators know that sharing ideas is an important way to improve their teaching practice, whether that sharing is done in a conversation in the hallway or through PLC protocols.
But according to Steve Ventura, a former teacher, school leader, and superintendent, one of those methods is more effective than the other.
In this PLtogether Lounge Talk, Steve Ventura discussed why PLC (professional learning community) structures, instead of casual conversations, are key to teacher improvement.
Steve, the author of multiple books including "Engaged Instruction: Thriving Classrooms in the Age of Common Core," talked with Edthena founder and CEO Adam Geller. The two discussed PLC protocols and PLC effectiveness.
Watch the full interview above, or read on for highlights of the conversation.
PLC protocols ensure meeting effectiveness isn't watered down
It's not surprising that when teachers have high-quality instructional skills, students will learn more.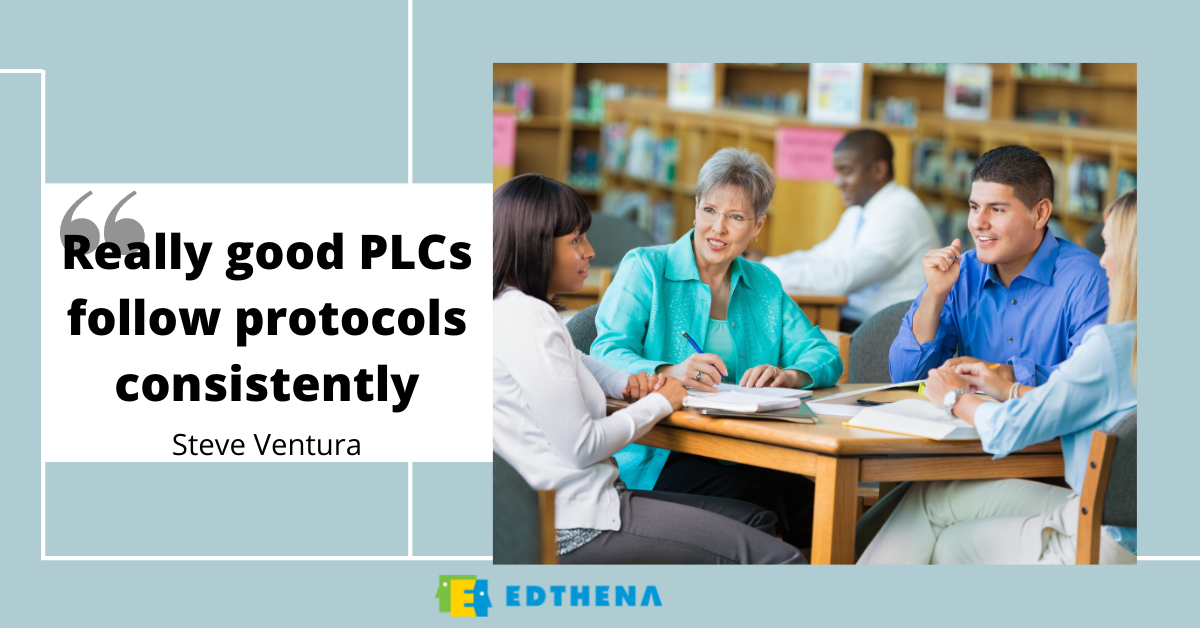 In fact, Steve Ventura emphasized, "The quality of the teacher in the classroom is the single biggest determinant of student outcomes."
Teachers in the same school often strive to collectively improve their teaching quality by sharing tips and learning together in professional learning communities.
What if your team's PLCs aren't resulting in productive learning, though? It can be tempting to just repurpose that PLC meeting time into teacher worktime.
Not so fast.
Steve Ventura encouraged teachers and school leaders not to throw away the entire PLC meeting, but rather to improve upon it. That starts with not considering just any conversation or meeting as a PLC.
"The term PLC has been watered down so much the last 10 or 15 years. … Really good PLCs follow protocols consistently," said Steve.
Perhaps the PLC protocols could involve pre and post assessments to measure teacher impact, as Steve Ventura suggests, or steps for analyzing student data.
Don't go through a PLC protocol just for the sake of doing the process
In addition to establishing the PLC protocols, it's important to be clear on your goal for the professional learning community structure. The wrong type of protocol is the kind you go through just for compliance, which likely will not lead to a greater impact on students.
Use a protocol that aligns to the purpose and goals of your PLC, such as what Steve Ventura shared:
"At the end of that meeting that team should have an appropriated new knowledge about teaching and learning, not [just maintained] existing knowledge." Steve continued, "Teachers sharing their master and vicarious experiences together could literally accelerate a great PLC."
An important part of the new knowledge to be gained is what other teachers share has been successful in their classrooms.
Enhance the teacher sharing in your school
Improving PLC practices, starting with adhering to PLC protocols, can be an effective way to formalize and strengthen the teacher sharing of best practices and knowledge that is likely already going on.
Want more insights from our conversations with Steve Ventura? Read or watch what he said works, and doesn't, for supporting teachers.