Do You Have These Top Traits of Effective Instructional Leaders?
Instructional leadership can take many forms and have many titles: academic coach, curriculum specialist, principal, district administrator, and more.
And according to one expert, all those instructional leaders share one thing in common. And it's something that they don't do.
"Instructional leadership is [not] about being the smartest person in the building. It's about getting everybody together to share their collective intelligence," said Steven Ventura.
How instructional leaders support educators in sharing their collective intelligence was the topic of conversation when Edthena founder and CEO Adam Geller talked with author and Advanced Collaborative Solutions president Steve Ventura.
Ventura, a former teacher as well as school and district-level administrator, laid out the characteristics and actions of effective instructional leadership in this PLtogether Lounge Talk.
The three key traits of strong instructional leadership are integrity, consistency, and ability. But how do educational leaders demonstrate and put these qualities into practice?
Watch the interview above to learn how to achieve these attributes, or keep reading for highlights of the discussion.
Instructional leaders, don't hesitate to participate in teacher PD
Integrity, consistency, and ability are principles that are shown through actions, not just words.
One thing's for sure, according to Steve Ventura, and that's that micromanaging teachers' instruction is not the way to support them or build confidence.
"Giving teachers the ability to create their own levels of self- and collective-efficacy where they can improve themselves" is what Ventura said will achieve a stronger impact on student learning.
In the same vein, top-down management styles are simply not as effective in schools.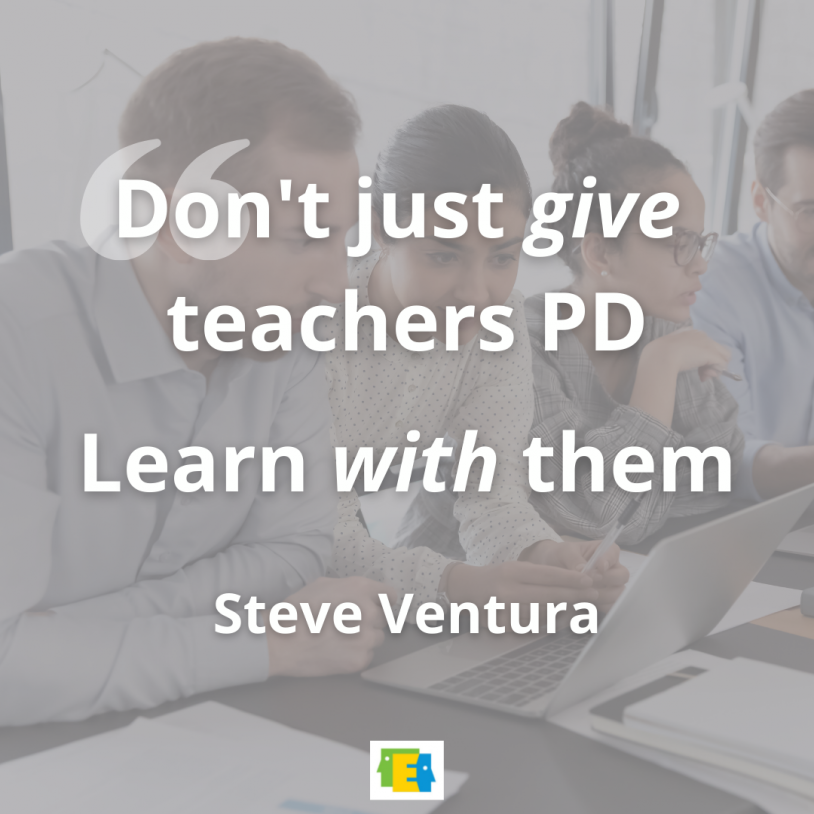 "The most successful leaders I see actually allowed teachers a certain amount of autonomy," shared Ventura. "[This will] motivate people to do more than they ever thought they could."
In addition, another part of showing integrity, consistency, and ability is for instructional leaders to live the culture they want to see from teachers.
Living the school culture includes joining in the professional learning process, not just leading.
"When you ask people to change, the first thing they want to know is, 'can you change with us?'" Ventura underscored.
A common habit for principals is to send teachers to PD sessions while they tackle the mountain of paperwork in their office. Ventura himself admits to falling into this trap.
"I can tell you I'm guilty of this. I would say, hey, listen, if you need me, I'm going to be in my office," admitted Ventura.
However, instructional leaders should be present in teacher professional development sessions. Evidence shows that effective academic leaders promote and participate in teacher learning.
Steve Ventura now strongly encourages leaders to dive into that learning right alongside teachers.
Do your teachers know it's OK to make mistakes?
Progress comes from making and learning from mistakes, and Ventura talked about how instructional leaders can promote a culture where this is acceptable and the norm.
"The best learning I know is when kids or adults fall into a pit and they get out of their pit," said Ventura. "As a leader, we should be letting our folks know that you get multiple opportunities to demonstrate proficiency and your expertise, and that if you make a mistake, all we do is we learn from those mistakes."
Reflecting on building a culture of resiliency in schools, Ventura explained that leaders show the traits of integrity, consistency, and ability by showing teachers that it's OK to try and try again until getting something right.
Especially in the past 18 months, where so much change and uncertainty has existed, exhibiting grace and trust is crucial for teacher, and in turn student, growth.
Putting traits of effective leadership into action
As you think about your leadership in terms of integrity, consistency, and ability, consider how you demonstrate these three key traits.
Micromanagement is a leadership style that doesn't lead to better outcomes in schools. Now that micromanagement is out, there's an opportunity for more teacher autonomy and better support from leaders.
Want to hear more about Ventura's insights into educational and instructional leadership? Check out all our interviews with Steve Ventura.
Or, read more about the types of teacher PD that actually work.