Want Your Teachers to See Great Teaching? Quickly Build a Teaching Video Library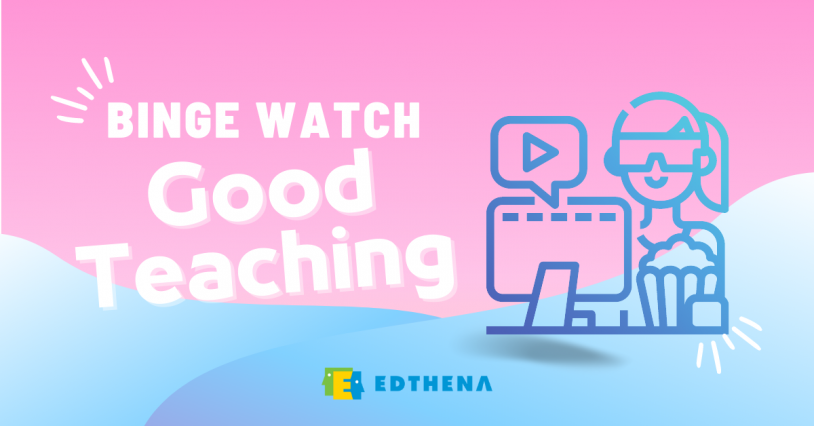 Trying to improve your golf swing? There are 925,000 videos online that can help you. Looking for a makeup tutorial? Good luck sifting through 265 million results.
Watching videos is a tried and true method for learning and improving one's skills. The same goes for teaching skills.
However, educators don't have time to search through random teaching videos online and determine which are actually helpful or the best to learn from.
Here's a better solution: a 3rd-grade teacher working on checks for understanding searches for that term in your district's Edthena video library. Up pops the exact teaching video they need to see CFUs implemented skillfully. With a click, the video begins to play. It's of Ms. Gupta down the hall, who they never get a chance to observe in real-time. Seeing questioning techniques in action is made easy.
Edthena makes it possible for districts to build and host a private video library that becomes available to all teachers across the district, accessed securely using their district emails. Teachers can search your video library by lesson objectives or standards, and they can filter to specific grades and subjects, too.
Forget scouring YouTube and welcome to your district's secure video library hosted by Edthena, where you can curate model teaching videos to your professional development heart's content.
Support professional learning and school initiatives with a library of teaching videos
District and school-level change requires a shared professional vision and shared definitions of exactly what "good teaching" will look like.
For example, how did your teachers know how to adapt formative assessment techniques to online and hybrid classrooms? It's possible that they were left on their own to guess, without the ability to check their methods against a model.
The need for reference videos is especially true when driving toward implementation fidelity of a newly adopted curriculum or when working toward amplifying the prevalence of specific intervention strategies within learning environments.
When teachers can watch examples of teaching practice in a teaching video library, they become aligned more quickly. Examples not only empower individual teachers to compare their own teaching practice to a standard, but video examples enable teams and professional learning communities to anchor their discussions against concrete examples.
One benefit to building a district-wide video library using Edthena is that the resources can continue to evolve over time. School leaders, coaches, and teachers can contribute videos on an ongoing basis, and those videos are curated easily before releasing across the district.
Make it easy for your teachers to find videos of exemplar teaching
No one wants to search through hundreds of example videos one-by-one to find a middle school classroom showing student discourse around math objectives or a high-school classroom implementing sheltered instructional strategies for ELL students.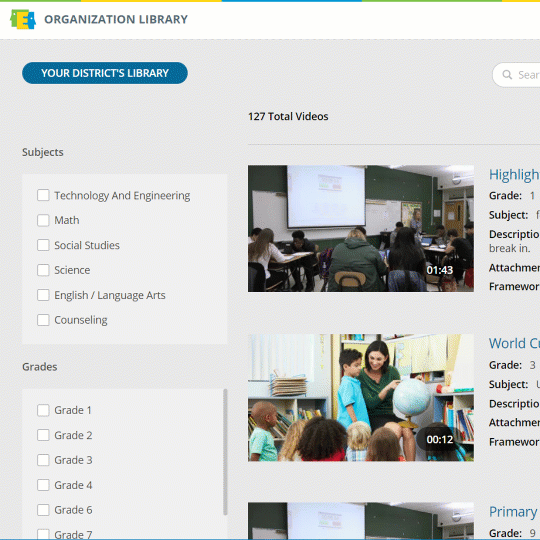 This is why district video libraries in Edthena come with built-in tagging and searching.
Whatever the school-wide priority, educators across your district only need to make a few clicks to drill down to specific grade-level and subject area videos.
Like other digital resources, a district-wide teaching video library in Edthena becomes an on-demand resource available to teachers whenever they might need access.
All videos are accessed securely, even if teachers are working on a new lesson plan from home: only authenticated users in your district can view the videos. Videos cannot be shared or embedded on any other site, either.
Pro-tip for building a district-wide video library: Focus on celebrating your teachers
In addition to your district-wide video library showcasing key skills, it also showcases your teachers. Those teachers who are highlighted in the library will feel confident from the public recognition of their skills.
Feeling encouraged to celebrate teachers? Here are some more ideas to promote recognition and curate content for others to benefit from:
Ask all teacher-of-the-year nominees to capture one lesson per month
Empower teacher-leaders to define their influence through video recordings
Encourage content-area specialists to model-teach important curriculum standards
Ask veteran teachers to detail their "first weeks of school" procedures for newer teachers
Deputize coaches to capture a set of videos aligned to prioritized pedagogical moves
Teachers can record small snippets of instruction or whole lessons for your video library. Video librarians can always trim videos to their most relevant parts.
Teaching videos at your fingertips
With the video library inside of Edthena, teaching videos are at educators' fingertips. No Netflix rabbit holes here, just the exact skill at the exact time you want it.
Support your teachers without the logistical hassle. Improving isn't hard when you've got an Edthena video library card.
Want to learn more? Send us a note at [email protected].