The AI Coach Platform: Coaching Teachers to Coach Themselves (Teaching Learning Leading K12 podcast)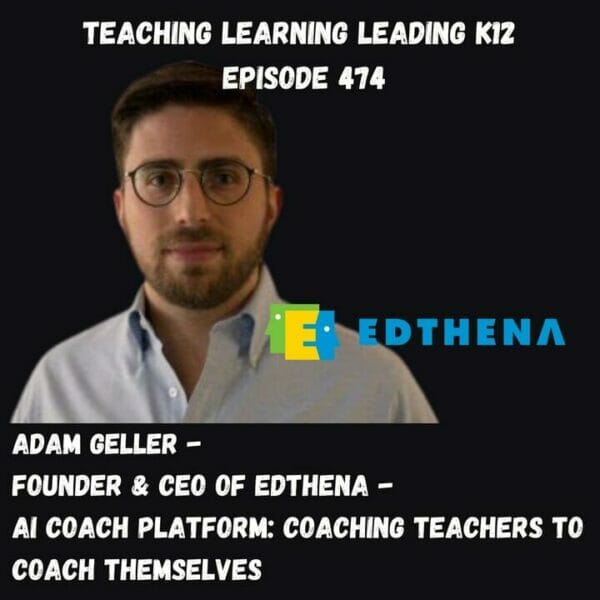 The AI Coach platform was recently featured on the Teaching Learning Leading K12 podcast.
Edthena founder and CEO Adam Geller highlighted how the platform coaches teachers to coach themselves.
Host Steve Miletto and Adam talked about why coaching is integral to improvement in teaching, the four-phase self-reflective coaching cycle, and how teachers can use the AI Coach platform to support their growth and collaboration with their in-person coaches.
Listen to the podcast episode on the player above or check out the podcast page here: AI Coach Platform: Coaching Teachers to Coach Themselves
You can find the full transcript of the conversation below.
Learn more about AI Coach by Edthena here.
Want to try it out for yourself? Sign up for AI Coach access here.
AI Coach Platform: Coaching Teachers to Coach Themselves
Steven Miletto:
Adam Geller is the founder and CEO of Edthena. He started his career in education as a science teacher in St. Louis, Missouri. Since 2011, Adam has overseen the evolution of Edthena from a paper-based prototype into a research-informed and patented platform used by schools, districts, teacher training programs, and professional development providers.
Adam has written on education technology topics for various publications, including Education Week, Forbes and EdSurge, and he has been an invited speaker about education technology and teacher training for conferences at home and abroad. Adam is the author of Evidence of Practice: Playbook for Video-Powered Professional Learning, written with Annie Lewis O'Donnell. You can catch Adam's original interview with me on episodes 279 and the follow-up on episode 387.
After leaving the classroom, Adam joined the national strategy team of Teach For America, where he helped design a technology platform to improve training for new teachers. Adam, it's awesome to have you back on my show. Say hi to everyone.
Adam Geller:
Hello to everyone. It's great to be back.
Steven Miletto:
Ah, it's cool to have you back, and this is cool because I've got like a year in between each interview. And so I've seen this really cool progress happening and just moving forward from where you were when we originally talked to where we are now. And before we start talking about AI and coaching, could you help our listeners, who did not know Edthena, what its why is? What's its purpose?
Adam Geller:
Yeah. So in our organization, we really believe that technology can and should eliminate the barriers for teachers' professional growth while also promoting their collaboration across classrooms and with the stakeholders in their community.
Steven Miletto:
This is very cool. This is so nice. So let's kind of back up just a little bit, because what we're talking about is professional learning and what you do to help it. So let's talk a little bit about professional learning in teachers. What do you think causes some of the biggest barriers to helping teachers change their methods and practices when experiencing professional learning?
Adam Geller:
Sure. Well, I think there are lots of different ways that professional learning can occur, and I want to start by acknowledging that because I wouldn't want to come off as dictating one style of professional learning for a teacher that's "right." But when you look at the research around the types of professional learning that can help teachers make and sustain the biggest types, the biggest changes in their classroom practice over time, right, because it's about sustaining those changes, it's really not up for question that the best way to do that is to give, to enable feedback about actual teaching practice with actual students.
It's the difference between the sit-and-get workshop, which certainly has its value for some things, and what many people would call instructional coaching type activities. That's the reason why so much, in terms of resources and time and energy, is invested into coaching and feedback to teachers. But there is a fundamental problem with that, which is that it's really hard to have the right person in the right place at the right time.
Don't get me wrong. If I could wave a magic wand and have someone in the back of every single classroom, every single day, able to support a teacher at the same level that professional athletes are able to get coaching for every single game they play, I'd be all for it, but that's not reality. The reality is when you look at what's happening in schools and districts right now, today, that even in places where they do have folks with the title of coach, those individuals are in classrooms teaching sometimes because there's not enough capacity to go around.
So I think for me and what I get really passionate about and when you asked about our why, it's thinking about how you can use technology to help solve for that problem of right person, right place, right time. So for a long time, Edthena has been known for our video coaching platform, which is a set of tools that enables a school to use video coaching, which is what it sounds like. The teacher uploads a video of themself from their teaching and shares it to the coach, the colleague, the school leader, somebody who can collaborate with them about what's happening, and it enables that specific feedback on actual practice, like we were talking about before.
And as we're going to talk about today, now we've built a new way to think about using that technology for video reflection, to enable teachers to essentially coach themselves when the coach is not there right now and might be coming back later. So we think that, again, technology can reduce those barriers for teachers to accelerate their learning, continue their growth and have the greatest impact possible with their students.
Steven Miletto:
That's awesome. And I know you've kind of responded to this in there some couple different ways, but one of the things I got to make sure that we don't leave this areas without talking about, why coaching's important for teachers? I mean, because some people say, "Ah, I don't need a coach," but do they not really? Do they kind of really need a coach?
Adam Geller:
Yeah. I mean, look, if… I mean, first of all, there's nothing inherently wrong with the idea of having a coach. As I hinted out before, the professional athletes have coaches. Professional musicians have coaches. Vocalists have coaches, right? So the idea that I don't need a coach is to suggest that the coach is an indicator of something wrong, when in fact, I think that if we look outside of education, the rest of our examples are all about how coaching is it's not that it's meant to be a luxury, right, but it is the better version of doing the thing you're trying to do.
Within schools, I think that coaching is very important mainly because when you look at the challenge, the overarching endeavor of being a teacher and the quite extreme complexities that they face in their classrooms, the reality is that it's a really complex environment, and having someone to help you process through that complex environment can be really helpful. And at the end of the day, if having someone to reduce the cognitive load as a phrase, right, reduce that cognitive kind of tax on you to make change, if it was really so easy, we would all be Olympic athletes and fitness models instead of every year, setting new year's resolutions about how we're going to change our behaviors yet again. Why is that? Because look, change is hard and having tools and process to support your change is really important.
Steven Miletto:
Yeah. I like what you're talking about there because yeah, if it wasn't that difficult, yeah, we all would be able to do those different things, and I love that. I don't watch these shows anymore, but I think in one of the early seasons of, oh, one of the singing performance shows that have been coming out, one of the things that I think impressed people a lot was you had these singers who were very good, but then they brought out talent that people really knew and recognized, and they worked with some of the individuals and it really showed the power of coaching because it just changed, it kind of gave them poise and things like this that some of them didn't have before.
And I think that any type of… I mean, even fishing, I mean it's like, there's so many different things that I don't… When people fight coaching, it's like, "Oh, come on, man. You know full well that I can go out and drown a lot of shrimp all day long, but if I know a little bit about how better to do it, I might catch a few."
Adam Geller:
I mean, look, again, in many contexts, the idea of coaching is a luxury. The idea of going to the gym and hiring the personal trainer to help you work out every single time is a luxury that many of us cannot afford. And I'm not trying to focus on the idea of exercises, the thing that needs coaching. I'm just using that as an example here of we do really value and prize the idea of coaching in so many other contexts. And so I think I'm just trying to point out that in some ways we've stigmatized it within the education space, and in fact, we should look at coaching and opportunities to have deep reflective process as a value-add to the teacher, and it's not a deficiency of the teacher. It is really just helping lift up that teacher to their next level of potential.
Steven Miletto:
I love that because I think you're right. I mean, in education, we've managed to make it seems as something bad. "Ooh, you have a coach. What'd you do?" As opposed to it should be, "Hey, cool. You have a coach. How can I get one?" And I mean, because there's any number of things, from working with kids to trying to get the kids to understand what it is you're working on, to maybe come up with different ideas and how to make them engage, and so forth like this, which we'll get into those in just a little bit. But cool stuff.
One of the things that I want to make sure that we talk about is Edthena has got this new AI Coach program or platform, and what I want you to do is, could you talk about how a teacher uses the AI Coach and interacts with this virtual coach? I mean, how does that work?
Adam Geller:
Yeah. So just to kind of set the stage for folks that have seen the Edthena platform that we've been known for, this is a completely separate platform. That's important because I'll describe here as best I can in words what happens, but I wouldn't want somebody to try and attach this on to what they know Edthena has been. This is really, from the ground up, a completely different way of thinking about using video and video analysis, teacher reflection and guiding teacher reflection.
So the AI Coach platform essentially coaches teachers to coach themselves. I think this goes back to what I'm saying before that every teacher deserves a coach. Every teacher deserves more coaching, and we think and we've been hearing that the AI Coach platform can help that be possible. So we're not trying to replace any coaches or take any coaches off the job at all, right? This is all about what happens in between when the coach can come to visit and in the schools where there may not be someone with a coach and that role is falling on the school leader. It's enabling the school leader to have, again, additional ways for the teachers to continue their learning outside of the times when they can visit.
So essentially, it still uses video. It uses video reflection. And we can talk about the coaching process itself, but the teachers log in and they actually are chatting via text or voice with a virtual coach in a chat style conversation. And the coach has a nice image, the persona, and it has an avatar, I guess you'd call it, and the name is Edie. And the teacher can have this private reflection with the virtual coach and be guided to uncover for themselves what's important and how they plan to make progress on this.
And I want to add here that this certainly could sound like completely crazy because quite honestly, there's nothing out there like this. You search AI teacher professional development, and we're the only thing right now. But there are models in other areas of our interactions with computers where actually this has been proven out. So a great example is a tool called Woebot, which actually has created a chat style interaction for users to interact with a virtual therapist. And they have studied this for a specific type of therapy, cognitive behavioral therapy, and it does work to build that relationship, to have that conversation, to guide the participant, to reflect on themselves in a guided way.
And so we've really built off of that idea out there in the world. Okay, these interactions can work to drive really powerful self-growth, if you design the right set of structures and tools and supports. And so we hope we've done that, and some of the early testing has been really exciting this spring. I mean, I think we've been hearing things like people saying, "Well, I really like this more than my peer-to-peer coaching process that we have right now." We had one from a… Different profiles of teachers are testing it as well, right? This isn't a tool for early-career teachers or late-career teachers. This is a tool for all teachers. And so we've seen positive reactions from a broad set of teachers.
And I think actually my favorite comment I saw coming in from one of our tester teachers was, "This was really a lot better and easier to use than I was expecting." The teacher had agreed to try it out, but that they had been really positively surprised by the experience of interacting with this virtual coach. It's completely new. We get that, but we're very hopeful that this delivers satisfaction to teachers and ultimately helps those teachers make changes in their classrooms to have impact with their students.
Steven Miletto:
That's so cool. And I could see how, first of all, it's a little… As a former principal who I was very focused on trying to get teachers' feedback, and you start off well-meaning because you try to use the resources you have at hand, so you end up assigning like an assistant principal to oversee some of this stuff, or you assign a department chair or something of high school, and one of the things that you run into automatically is that something goes kablooey. So the assistant principal has to go take care of whatever went kablooey, or the department chair has to take care of the other teacher who didn't show up that day, or something like this. And they don't receive the feedback or the coaching.
Now, and I know that your focus is not to eliminate coaching. It's to create access for all. And I thought we might chitchat about that, because I could see where meshed together – that's a funny thing to say – with coaches and the AI, that you would be able to reach more people. And plus the AI doesn't have to go handle a fight in the bathroom.
Adam Geller:
That's right. I mean, the virtual coach is not going to have a last-minute meeting with a parent pop-up. The coach is going to be there ready to start the conversation or continue the conversation in a way that fits the teacher's schedule. So I think that's really important. And I think I hinted at it before that there are variety of structures in school buildings to create opportunities to talk about teaching. Right? So I'm being careful here to pick a different phrase, because I think also encoded in the idea of giving teachers feedback as some sort of passive process that teachers are just doing their teaching, and then someone will come in and give them feedback, when in fact, the best style of conversation about what's happening in classrooms allows teachers and encourages teachers and helps teachers know how to analyze what's going on in a honest way.
So I think the AI Coach, the platform really helps tap into that, that if you do have the department chair as the person who is assigned to come to you once a quarter, or once a semester, as maybe it's part of a compliance process, maybe it's part of a minimum activity, whatever. Districts have different ways of laying out why that's happening and all for good intentions, but maybe the teacher doesn't feel good about that process or doesn't feel invested in it, or doesn't feel like the person who's coming to their classroom is invested in that teacher, right, because the teacher didn't have necessarily, we can't guarantee because we don't know, choice in that process.
But when you kind of flip the script, if you will, and really what you say as the non-negotiable is that these conversations will happen, that reflecting on practice is important, that is important from a research perspective, but that's just important oftentimes from a culture perspective in a school. The virtual coach really gives the teacher a tool to be doing that on their own and empowers them to have a deeper understanding grounded in what actually happened in their classroom, grounded in data that they've collected to continue conversations with the department chair or with the community stakeholder or with their colleagues on another team.
So I think that that is really what it's about. It's absolutely possible to fill in the space in between in-person coaching, but I'm not advocating that we should stop that activity. I think really what we're trying to do is close the gap in between what we hear is the ideal amount of conversations, reflective conversations about practice and what's actually happening, because no matter how many people are hired or how many department chairs are given partial release, there's always a gap between the ideal amount and what's actually happening on the ground.
Steven Miletto:
And I think what your AI platform lends itself to is that it's coaches calling up be so many places, and so if you have real coaches, and what I mean by that is people who that's their training, as opposed to an assistant principal who gave the assignment to. And then you have the AI platform, which then, and what I think is really cool about it is that as a teacher accesses it, I think they learn that it's unobtrusive. Maybe that's the word I'm looking for because they're not really in front of a person who's sitting there looking at him writing notes and they're going, "What's he writing? What's he writing? Am I going to hear everything he's writing, or is he going to turn this over to somebody else?" And instead, it can become exactly what it needs to be, which is suggestions and feedback of a type that will help them make some decisions about doing better.
I think it's funny. In a day and age when… It's neat that this is reaching the classroom because I mean, you have any number of CEOs of major Fortune 500 companies who have executive coaches that work with them about decision-making. And I think this is an important aspect that you've clicked into here as you've grown from just your video platform to the AI platform as well. So cool stuff. I got to ask this. So what type of technology do you need to make the AI platform work?
Adam Geller:
You need a modern web browser and an internet connection. So no special equipment required. This works on Chromebooks. This works on Macs. This works on PCs. You can capture your video with your mobile devices. You can capture your video with your laptop. This isn't about going and buying something new. This is about using the technology you already have. And the technology is essentially facilitating just a completely new way of interacting with the evidence of what's happening in your classroom.
Steven Miletto:
And I got to tell you, that's awesome right there, because so often when there's a new innovation or something like this, it comes right along with about $50,000 worth of new equipment, and yours doesn't. I like that. That's awesome.
Adam Geller:
Yeah. And that's why I start with Chromebooks, right, because there's certainly a lot of different devices out there, but there are a lot of Chromebooks out there. And I think for a long time, Chromebooks were somehow viewed as not going to have access to all the latest and greatest. And so for us, it's really important that everything we develop works seamlessly on Chromebooks, just the same as of work on any other platform. Not only is that what users expect, but I think it is what is fair and equitable. When you think about districts allocating their resources, they shouldn't need to buy something new to implement teacher professional learning strategies. I think that takes away from other ways that they could invest.
Steven Miletto:
Most definitely. And this also gets the attention of the principal. "What? I don't have to buy that big, bulky thing that might be outdated within two weeks?" There's a particular video device from a long time ago when I was a teacher that if you just bought this thing, and it is named after a famous Greek story, and if you just bought this, everything's going to be great, because it's going to have all this video on it and you can access it, and it was a giant laser device. And today, everything that it had, you access through YouTube.
Adam Geller:
That's right. That's right.
Steven Miletto:
So good stuff.
Adam Geller:
That's right.
Steven Miletto:
The AI Coach is trained to address many specific high needs areas in the classroom, like managing student behavior, checking for student understanding and providing feedback to students. From what I understand, the AI Coach guides the teachers through a four-phase process: analyze, reflect, enact, and impact. Could you share some of this process? Could you talk about those four magic words?
Adam Geller:
Absolutely. Yeah. So the AI Coach platform has a coaching cycle, which is represented by those four cycle phases that you just described. I think the other part that I need to kind of interweave here as I'm defining them is how does the AI come into this? How is the virtual coach a part of this process alongside the teacher? So first, let me say very clearly the AI is not watching the video for the teacher and the AI is not telling the teacher what to do. That is not… First of all, that's science fiction, but also, it's just not what we're doing, and I think people are worried that that's what we're suggesting here. So really, when we're talking about how the AI is part of this process, it's part of the conversational experience for the teacher and part of the customization of the content that the teacher's experiencing throughout that conversation.
So let's start at the beginning of the process with analyze. So during the analyze phase, the teachers are guided by the virtual coach to gather video from their classroom. And then the teachers come in, and they're thinking, just like they would to an in-person coach that they might have access to today, "Oh, I'm interested in working on checks for understanding and use of academic language in the content area." Right?
So this isn't the AI dictating to the teacher what to do. This is the teacher saying what they want to learn about. And then in response to that, the platform is able to provide the teacher customized observation tips related to observing for checks for understanding, related to observing for use of academic language in the content area. So the teacher then goes through and analyzes the video, adding timestamped comments tagged to the particular skills. And of course, if they change their mind along the way, the platform is able to adjust along the way with the teacher.
All right. So then the teacher moves into the reflect phase. During the reflect phase, the teachers are then asked to step back from that analysis process, look at the comments that they've left, summarize them, and then start to narrow things down into a goal, reframe the kind of observations they're making into a goal. And this is another example of how the AI is able to guide the teacher. So the kind of stance of coaching is if the spectrum is fully facilitative or fully directive, the stance here is more in the middle.
And so, as an example here, the AI coach guides the teacher to pick one skill area to set a goal in, right? It's not, "Oh, I feel like there's so many things wrong in my classroom, and there's so many things to work on," because that's a place that some teachers are and that's a place that you want to help get them out of. So you ask that teacher, "Okay, what's one thing you want to work on?" "Oh, I want to focus on checks for understanding." "Okay. Why don't you reframe your observations now as a goal for change related to checks for understanding?" And then open-ended questions about how the goal will impact students, how they'll measure that, why it's important, things like that.
Okay. So we've watched our video and analyzed. We've summarized what we've seen in our classroom with the reflect phase and turned that into a goal. Now, we need to develop a strategy for action, and that is the enact phase. So in the enact phase, the teachers have then moved forward into a process of thinking about their goal and then kind of determining a particular strategy to implement within their classroom.
And this is another place where the AI is able to really support teachers, because there's… Let's say, we're working on checks for understanding and you're a teacher who's like, "Well, I thought I was trying what I knew already. I'm not sure where to look." And so what are you supposed to do next in the absence of this platform? Well, are you going to go Google? I mean, you're going to get, I don't know, millions of results. But the platform is able to ask, "Hey, Steven. Are you wanting some extra resources?" Right? It's not us giving you a resource. We're not telling you what to do.
If the teacher wants to see some curated resources, then the virtual coach is ready with those virtual resources specific to the goal area of the teacher. Then the teacher picks a strategy, a timeline for follow-through and sets a follow-up meeting with the virtual coach. And then they go off to their classroom, and they do the work of teaching. They implement a change. They run the experiment. They gather new data. And then they have a follow-up meeting, which is that fourth phase of the cycle, which we call impact, where the teacher reflects on the change that they implemented, determines if the change is having the type of impact they want toward the goal, and determines, should they continue that strategy or should they try a different one?
So I think that we've really tried to encapsulate what people think of as a coaching and reflection cycle, but grounding it in what also is known about kind of some of the mechanics of behavior change and behavior modification to support teachers to do that. And I think I want to add one more thing here, which is I want to stress this process is not about finding the right thing to try. This process is really about constantly thinking, as a teacher, I'm going to try new things, I'm going to determine if they have an impact, and I'm going to then be able to say whether or not I should continue that thing inside my classroom. And so we really think that giving teachers tools to constantly incrementally improve their practice and make it okay to say, "That thing didn't work," is really something powerful to help them unlock their true opportunity for impact.
Steven Miletto:
And I got to tell you, this is what I love about it, is that it's not saying this is what you got to do. It's making these suggestions through using resources and such to help if the teacher asks. And I just think that's amazing because a lot of times, I mean, that's exactly what happens in the classroom. First of all, when you teach, when you work with kids, you never know not only what each class is going to be like, but you don't know what… Even just a couple of the kids in the same classroom, and you need ideas on how to work with them. And that's a cool aspect of this, is that it's there for… You could use it quite a bit, and it could give you the suggestions if you take advantage of it.
Adam Geller:
Yeah. And I think what we've done is created a tool that helps teachers kind of work through a process that I am willing to die on a stake about, which is the idea of continually increasing their effectiveness. Right? I don't think that's a negotiable for teachers, and I don't know many teachers who would say that that's a negotiable, right? So we've built a tool that makes that process easier to work through, but also easier to document and rewards them for that work, because at the end of the coaching cycle, the teacher has an artifact of this professional learning that they have undertaken.
And this might have been professional learning that they've done in the past that was invisible to their school leader and they couldn't "get credit for it," right? Not that this is always about credit, but at the end of the AI Coach process, teachers get a reflection log, which they can choose to share with others as an artifact that they're learning. Also, it helps them in those conversations to collaborate with others, but they also get a certificate that represents that they did two hours of professional learning. And we're not the ones who get to decide if that counts, but if you draw the short line here, if you're working, if you're a teacher in a school or a district that has adopted this tool, they probably are the type of school or district that's going to say, "Yes, that activity counts for professional learning, and we will give you the time and credit on your required PD hours."
Steven Miletto:
Yeah. I like that a lot. And you're right. If it's a district using it, they probably will support that, I would think, which is a good thing to do because I think it kind of encourages the teacher to make more use of it. So I think that's cool.
I got to ask this, because I read this cool blog article that you guys have, and it's about how the AI platform helps with these three R's of teacher collaboration, and I was wondering if you could just discuss that just a little bit, because I thought this was fascinating.
Adam Geller:
Absolutely. So, I mean, I think, again, it goes back to this idea that the three… We're not saying that you should get rid of any coaches, or we're not saying that teachers should stop talking to their colleagues. In fact, we're saying teachers should always be doing that, and this is a tool to help them do more of that. So the three R's are relationships, reflection, and resources. And we've been kind of hopping around these a little bit, but maybe let's talk about those three in the frame of how the AI Coach platform prepares teachers for collaboration.
So in the vein of relationships, whether that is with the teacher and their instructional coach, the teacher and the school leader, those relationships to talk about what's happening inside of a classroom are more productive when teachers are able to do a little bit of the pre-work, if you will, in a way that helps them take advantage of that time. Right? So if you are a teacher who has a coach, it's way better to know how to ask that coach for something specific rather than have the coach come in and say, "Okay, well, topics du jour are A and B and C, are what's interesting to you." And so I think that it enables teachers to have more productive, more powerful relationships with those colleagues around them that are there to support them.
The second piece is the reflection. So coaching conversations are always more powerful when teachers are better able to talk about their teaching in specific, and being better able to talk about your teaching requires having reflected on your teaching. And so the AI Coach platform gives them a structured way to do that that really primes them to be ready in a way that they may not be ready today without this additional scaffold or support.
And the third piece is the resources, and we were talking about this idea before that the platform has resources available to the teachers, but really, the AI Coach serves as another place that teachers can go for ideas when they are wanting to lean on someone else around them, if you will, for those ideas on where to look. It takes the burden off of the existing coach or the existing school leader as being the single source of knowledge, or the single source of truth on where to go look, and it also solves for the challenge that many teachers face, which is, well, there's a near infinite number of results on the internet, and how do I know which ones are even of high quality to trust?
And so the AI Coach platform has resources available to suggest, right, because it's not a point-based solution. It is a "Oh, you're interested here. Here are three. What do you think of these?" It's not one thing to look at. But having that extra set of resources and extra capacity essentially added on the bench, if you will, for the teacher that they can draw upon, that's what we believe is really going to unlock more powerful collaboration that's in line with the professional standards for good professional learning.
Steven Miletto:
I love that. I think that… And one of the things that it lends itself towards is something you mentioned, which is a lot of times, if you're out there looking for your own resources, not only you might find a bazillion or not so many at all, but you have to question, you better question whether some of them are quality or not, and quality's being nice, because some of them just, they're not right. The person found out that it works for what they want to accomplish, not necessarily is it best practice. But that's good stuff. I appreciate you taking time to explain that because, yes, we had hit in and around the three R's, but I wanted to make sure we talked about them together.
Adam Geller:
No. I like it because again, I can't say it enough times, if I could wave the magic wand, I'd put a coach in every classroom every hour of the day. Right? I'm passionate about the idea that teachers are… And it's not just me. We, we are passionate about the idea that teachers are the biggest lever for how schools can positively impact students. And the research is very clear on how to help teachers be the best versions of themselves. And we're really just focused on enabling more of those opportunities to be possible and, also, I think recognizing the realities of many schools and districts that they have constraints, and if technology can help them minimize those constraints that they're facing today by helping them think differently and creatively about professional learning, it's going to be what's better for teachers, and that's what's going to be better for students.
And even if it's new and it's different, and people sometimes look at us like we're crazy, I mean, since we've announced this, I've gotten some people that say, "Oh no, that's a terrible idea. I don't even want to talk to you about it." And that's okay. But I think that it all comes back to when you originally asked the why, right? We're not trying to take any jobs away or eliminate any coaching from schools. Those are really powerful, awesome, meaningful interactions. The reality is that there's just not enough of them. And so whether you use video coaching to amplify how much coaching one coach can get done or use AI Coach to supplement what coaching is getting done, I think the end result is still going to be the same.
Steven Miletto:
I love it. I think this is cool. What a great tool for teachers and schools, to be able to add to what they do to help their teachers work better and help the kids understand more about what they're doing. I love it. We're getting close to finishing up Adam, and before we do that, can you talk about how much does it cost? I mean, how's pricing? How's that all work?
Adam Geller:
Yeah. So we don't have some pricing table already published on the internet. This is new, so we're still kind of confirming where we're going to be on that. But I can say that this is going to be less expensive, I think I feel really confident saying that, less expensive than a one-day workshop that you're going to get for one time with all your teachers. This is going to be a yearly fee for a building, for all your teachers to use it as all they want, or district buy for all their buildings. It's unlimited coaching, and it can scale to an unlimited number of conversations at less than the cost of that one-day workshop on a per-teacher basis. So we think that that's really exciting that we're going to be able to deliver a high impact learning tool at a really low cost per teacher.
Steven Miletto:
That's excellent. Love it. Adam, if someone wanted to reach out to you, find out some more information, where would you send them?
Adam Geller:
Yeah. So if you're interested specifically in the new AI Coach platform, head to www.edthena.com/aicoach. So that's E-D-T-H-E-N-A.com/aicoach.
Steven Miletto:
Excellent. I'll have it in my show notes. And just as a note, I'll make sure that they know, go to that blog too. You'll see some really cool articles there that'll help reinforce what we've been talking about. So good stuff. So I'll make sure that's there.
I got one more question for you, Adam. If you had the chance to talk to a conference of school principals, what would you want them to remember about your AI platform to help their teachers? I mean, basically, you're hoping they'll say, "We want that AI platform from Edthena." What do you want them to remember when they leave? What do you think?
Adam Geller:
Well, I might have said it two minutes ago now where I was spilling my heart about what we really care about, right? But I mean, I think at the end of the day, I want principals to see and remember that this is a tool to continue to unlock the full potential of their teachers and help their school as a community of practice achieve its goals together and help everyone involved be better prepared to do the hard work of talking about what's really happening and making plans around what's going to happen next in order to meet everyone's goals.
Steven Miletto:
Excellent, excellent. Adam, it was awesome getting caught up. This is cool, because I've seen the growth of your company over these last couple years is so neat. And it was cool about the role that AI plays in helping support coaches and coach teachers, and I just think it's amazing, this progress that you've had. I mean, thanks for introducing us to the AI Coach, and I can't thank you enough for being here today, and wishing the best in all you do.
Adam Geller:
Thanks so much. Excited to share it. I can't promise a whole new product next year when we talk, or before when we talk, but definitely some updates on how it goes, for sure.
Steven Miletto:
Teaching Learning Leading K-12 is excited to be a member of voicEd Radio. voicEd Radio, your voice is right here. Teaching Learning Leading K-12 is a proud member of the Education Podcast Network, podcast for educators, podcast by educators.
The opinions expressed on Teaching Learning Leading K-12 are those of the guests and host. Teaching Learning Leading K-12 is intended to share ideas, advice and suggestions for classroom teachers and school administrators. Teaching Learning Leading K-12 is produced for educational purposes. Thanks for listening, and I hope you'll share it with your friends.
Want to learn more about the AI Coach by Edthena? Check out the AI Coach platform.