Resources for Teacher and Instructional Coaches – March 2021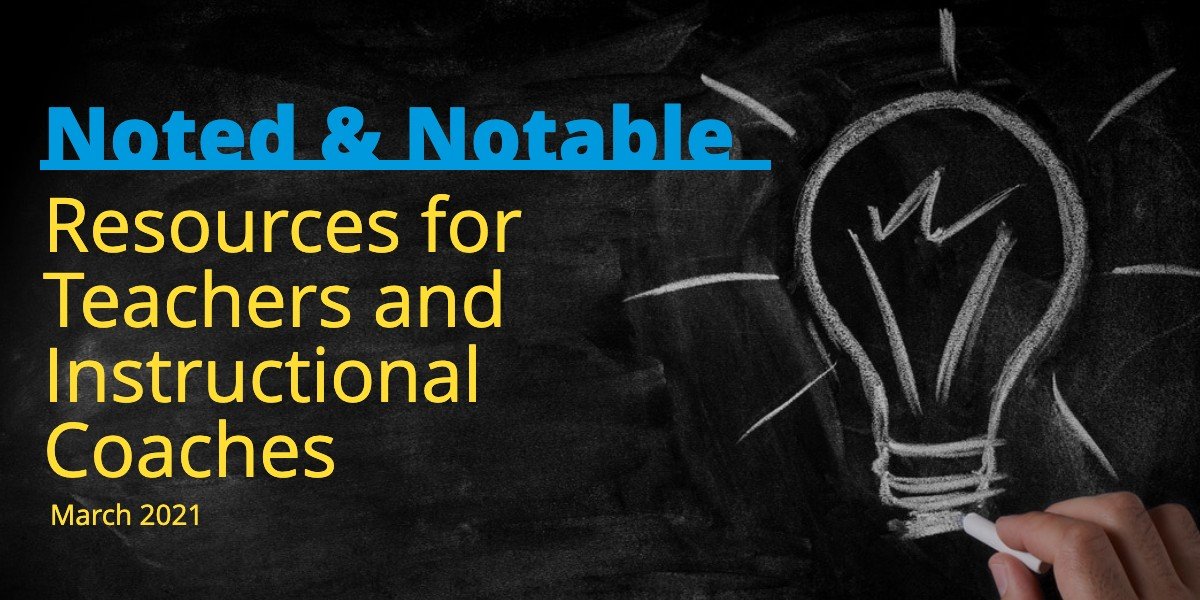 As we are blossoming into the spring months, in-person learning is also started to spring as schools are reopening across the county. Here are some interesting reads for teachers and instructional coaches around recommendations around reopening, teaching culturally responsive teaching, and prioritizing student mental health. 
Help your students see themselves when teaching American history
Here are some helpful tips on how to properly discuss race when teaching American history. 
Historical narratives should strike a balance between examining racism and discrimination but also highlighting "the resilience and resistance of communities throughout history," so they're instilling hope in young people, Boudreau writes, but also correcting the narrow, often cursory view of U.S. history that glosses over important figures of resistance like César Chávez, Elizabeth Cady Stanton, the disability rights activist Ed Roberts, and Kwame Ture, born Stokely Carmichael. It's an effort that calls on educators to "teach a more accurate history that commonly goes untold: the role of grassroots activists and women, nuanced portraits of leaders like Parks and King, and racial and social justice battles that link the past to contemporary issues of inequality," writes Melinda D. Anderson, a journalist.

"It's imperative that teachers not reinforce a milquetoast version of Black history that is anti-Black because of its erasure of painful truths," writes Rann Miller, an after-school program director. As a student, Miller learned about Martin Luther King Jr., Harriet Tubman, and Frederick Douglass. "I heard very little of Malcolm X, the FBI's campaign against civil rights leaders, the Rainbow Coalition put together by the Black Panther Party's Fred Hampton, or Hampton's assassination. I learned about the struggles of my enslaved ancestors, but not about Gabriel Prosser, Denmark Vesey, or Nat Turner."
Read more on Edutopia: Addressing Race and Racism Head-On in the Classroom
Expert suggestions for redesigning your in-person learning spaces
The CDC recently released its operational strategy guide for K-12 schools around implementation tips for safe in-person learning and school reopenings. Here are a few of the highlights. 
"One thing I want to highlight is this best practice that's emerging around use of cohorting," Massati says. "It's this idea that schools are creating bubbles. Some schools are creating bubbles around a particular classroom, and our MMWR article that was done in partnership with the Salt Lake County Schools did just that: They create cohorts for each classroom. In Wisconsin they used cohorts at the grade level. What that means is that there's a smaller distance of less than six feet within those cohorts, but they use larger distances between cohorts. It allows them to keep spread low."
"First start with who will be most impacted by your decisions," says Harris-Aikens. "Create equity checkpoints throughout your existing decision-making processes and start with the knowledge and belief that every child, every family, every educator brings assets to your school community. Make your decisions based on those facts.

"The voice of those most impacted needs to be at the decision-making tables. Is it students of color, students with disabilities, students experiencing homelessness, students without broadband access at home or the devices? Is it the paraprofessionals, is it the bus drivers, the school secretaries?
Read more on EdSurge: Experts Explain School Reopening Research and Recommendations
Students are returning with new needs. Premade response plans can help.
With more school reopenings as students are returning after a year of distance learning, it is imperative for schools to be prepared to respond to all types of intensive behaviors and struggling students. 
When responding to a highly charged situation where a student may be acting violent or agitated, there should be pre-established protocols. The designation of a crisis response team can take the guesswork out of who responds to an emergency and how, said Jessica Dirsmith, a clinical assistant professor of school psychology at Duquesne University in Pittsburgh and Pennsylvania's 2017 School Psychologist of the Year. 

Additionally, school staffs should be trained in trauma-informed practices, Dirsmith said. That professional development can be essential for when a student's anger is escalating. Instead of making snap decisions in the heat of the moment, training in trauma-informed decision-making can help teachers rely on evidence-based techniques to reduce behavioral concerns, she said.

Teaching students acceptable behaviors and how to self-regulate, as well as having a multi-tiered system of support, should also be part of preventative and response plans, Leverett said. Dirsmith also recommends universal mental health screeners and data analysis, such as attendance, discipline and academic records, to identify students who are struggling with mental health challenges.
Read more on EducationDive: 3 Strategies For Helping Students In Crisis Return To School