One Founding Principal's Strategies for Building Positive School Culture
Positive school culture is key to thriving teachers and students. It means that educators are connected and behave with shared beliefs and values.
But school leaders have so much on their plates and it can be tricky to know how to support something as broad as the culture of a school.
That doesn't stop Sarah Martin. The founding principal of Stonefields School in Auckland, New Zealand, has prioritized cultivating a positive school culture.
She spoke with Edthena founder and CEO Adam Geller for this PLtogether Lounge Talk about her bottom line: Don't leave your school culture to chance.
Watch the conversation above, or read on for three strategies Sarah considers critical for establishing, maintaining, and checking in on school culture.
Not sure how teachers are doing? Just ask
Principal Sarah Martin has a message for other school leaders:
"As a leader, the deliberate work on our organizational culture just can't be left to chance. And I'd say it's probably my most important work."
This can be done in informal ways such as calling a few teachers every night to check on how they're doing.
"Being really connected to the people and seeing how people are [doing]," provides priceless insight into how individuals are and trends across a school.
A more formal strategy for intentionally working on school culture is doing an annual survey.
Not sure where to start? Here are some questions that Principal Sarah Martin recommends including:
Would you recommend ___ as a good place to work?
What's the morale like?
Is there a high level of trust?
What is one thing you'd like to see changed?
What are areas that are going well?
Asking teachers simply how they're doing and how they feel about their school is key to establishing a positive school culture and identifying what may need to be improved.
Positive school culture starts with 3 school leader actions
There is a common misconception that positive, or negative, school culture simply "happens."
Rather, Principal Sarah Martin shared three things school leaders can actively do to create the culture they want.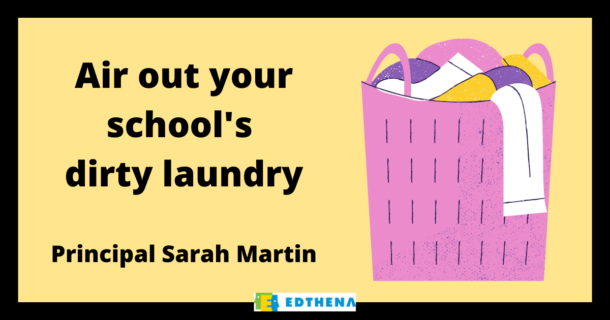 First is modeling educator wellness. When Sarah is calling to check on teachers after school, she does it while on her evening "well-being walk."
When teachers are aware that their principal is prioritizing their own wellness, it models that this is important for them as well.
The second strategy for school leaders is truly listening when people speak up about things that may be hard to hear, such as critical feedback.
Sarah said, "When our data shows up [that] things aren't good, we don't shy away from that."
Some follow-up questions can include, "What are the things that are getting under your skin?"
This requires giving educators permission to discuss the "undiscussables," and then determining next steps.
"We put all our dirty laundry out to air and we organized that to get the themes. Then we took action around [making] our organizational culture healthier," explained Principal Sarah Martin.
Teachers felt genuinely listened to and like they were a part of the solution.
Thirdly, Principal Sarah Martin shared, "The other really critical piece is showing authenticity and being really, really vulnerable."
This means talking about both the positives and challenges you're facing as a school leader so teachers feel more open to being vulnerable and honest themselves.
When school culture is hard to talk about, have teachers draw it instead
School culture can feel intangible – hard to define or articulate in words.
To address this, Principal Sarah Martin has teachers take to pen and paper.
"We ask people not to talk about the ultimate organizational culture, but to draw it. If you were to draw and use a metaphor to explain the organizational culture that you ultimately long to belong to, what does that look like?" she suggested.
For example, school team members can draw a bridge. On one side, they draw what the current reality of the culture at their school looks like.
Then, at the other end, teachers draw what they would want to see from a positive school culture.
This helps guide and facilitate conversation about how to get across the bridge.
Don't leave school culture to chance
Founding principal Sarah Martin is adamant that positive school culture doesn't happen magically.
There are many strategic and intentional moves school leaders can take to create the type of environment they want for their school, teachers, and students.
Hear more of our conversations with Principal Sarah Martin. And check out this blog post for research-backed insight into what teachers can do to create a positive classroom environment.