Put that Oxygen Mask on First: 2 Strategies for Teachers Who Want a Positive Classroom Environment
Many educators striving for a positive classroom environment have been told the airplane oxygen mask metaphor: Put on your oxygen mask before putting on someone else's.
The intended message is to take care of yourself first, so you can then take care of others. This is especially true for teachers who are supporting students.
Harvard GSE researcher Heather Hill found that, indeed, creating welcoming environments for students must first start at the teacher level.
In this #PLtogether Lounge Talk, Heather Hill, also a columnist for Edweek's 'What Works, What Doesn't', talked with Edthena founder and CEO Adam Geller. They discussed 2 research-backed approaches and interventions for teachers that have positive impacts on students' sense of safety and happiness in a classroom environment.
Watch the interview above, or read the highlights below, for the 2 teacher-centric strategies.
Positive classroom environments are necessary for student learning
"Students need to feel secure and happy in classrooms to learn," stated Heather Hill.
In fact, when students feel safe enough to be academically engaged, there are multiple positive outcomes.
"There are fewer suspensions, [and] teachers and students have better relationships," according to Heather's findings.
With much disruption and uncertainty in the world recently, stress and other mental health and emotional issues are at the top of the list of students' concerns.
Many educators are looking for ways to improve their classrooms to be better learning environments for students.
Reviewing existing literature and studies, Heather Hill found 2 types of teacher-centric programs that had an effect on positive classroom environment and culture.
Wondering about the approaches that studies show to be effective? They're rooted in empathy and mindfulness.
Teacher empathy for students leads to more understanding and fewer suspensions
Empathy-based programs come from the work of Jason Okonofua at Berkeley, rooted in social psychology principles.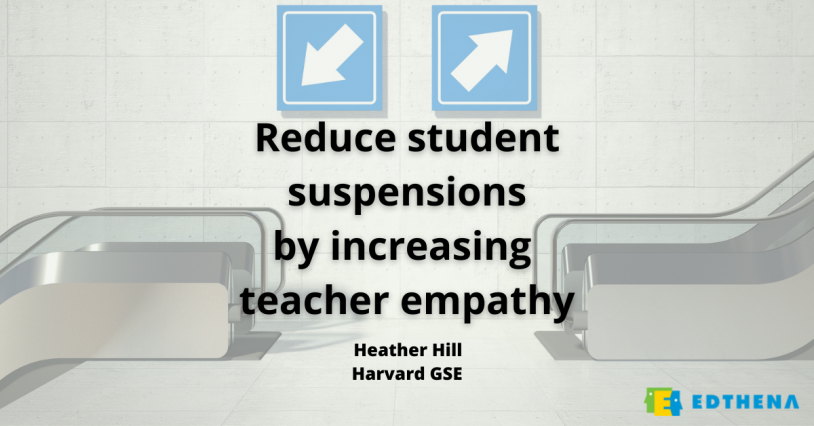 The programs were short but powerful and taught educators about how student misbehavior can be attributed to social stressors and brain changes.
"Teachers read an article, and it was a non-pejorative article about students and what might cause student behavior," Heather Hill described. "The program encouraged teachers to really understand and hear and value students' experiences."
The studies following teachers in the program showed that, as a result, teachers would have a two-way conversation with misbehaving students instead of immediately resorting to doling out detention.
An even more surprising study finding?
Suspension rates dropped by about half!
Heather Hill called this a "huge win," citing that fewer suspensions mean more kids in school, especially Black and brown students, who are often targeted at higher rates for suspensions.
Students perceived a difference, too. Kids who initially had a conflict with a teacher reported having a better relationship, the foundation of a positive classroom environment.
Mindfulness: not just for yoga, also effective for managing teacher stress
Mindfulness has become a popular approach recently, rooted in being more present and aware of the moment one is in.
However, mindfulness is not just helpful as a meditative practice, but as a mindset for the classroom, too.
"[Mindfulness] actually seems to work to create better classroom environments for kids. And it may also reduce teachers' racial bias," Heather Hill noted.
A study from the University of Wisconsin had pre-service teachers attend mindfulness sessions, which promoted loving and kind thoughts, as well as being generous and respectful to others.
This approach to managing teacher stress and implicit bias had positive results.
"The outcomes for that intervention were reduced implicit racial bias and also improved classroom quality in terms of instructional support and also classroom organization," reported Heather Hill.
The key is giving educators tools to proactively deal with their own stressors and have more positive and productive interactions with students.
A positive classroom environment is achievable with empathy and mindfulness
The research findings from Heather Hill make it clear: educators must be proactive about putting on their oxygen mask, attending to their own stressors and needs, before they can help students.
But perhaps you're not partaking in a study? You can still foster a more positive classroom environment for students on your own.
Check out these resources about the effects of mindfulness, with strategies to try, and more about how to cultivate empathy in classrooms.
Want more education research insights from Heather Hill? Check out all our interviews with Heather or read our latest about her findings on how to boost student attendance.