Resources for Teachers and Instructional Coaches – February 2022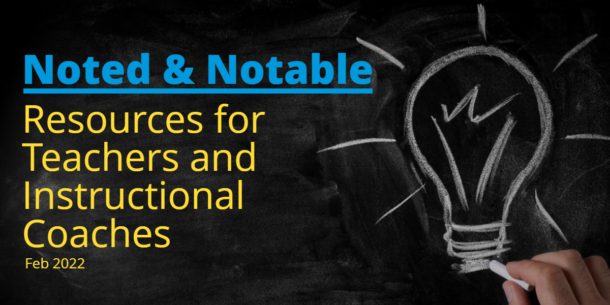 It's been a short but eventful month, and we've curated this month's top resources for teachers and instructional coaches.
This edition of noted and notable content for educators includes effective communication for 'managing up', trends in professional learning needs, and a roundup of coverage for our new AI Coach platform.
Here are our top picks for the Feb. 2022 reads you shouldn't miss. Read on for the highlights, article links, and related content.
Communicating to school leaders doesn't have to be uncomfortable
There are often scenarios where you may want to influence or help steer a school leader or manager in the right direction with more information.
'Managing up' is a form of communication to "influence your supervisor in making decisions or taking action that's in the best interest of the organization," according to this article from Edutopia.
And, it doesn't have to feel awkward. There are strategies and resources for teachers to effectively communicate to a school leader who may be new or need help making a decision.
Here are four strategies, summed up by the acronym AAHH.
Ask: Speak to your supervisor to learn more about the issue. Be sure to ask clarifying questions—perhaps there's more to the issue than you thought. And listen to what your supervisor has to say. Asking questions will give you background information to help you understand your boss's perspective as you work toward a solution.
Adjust: A big part of managing up involves adjusting to your supervisor's leadership or work style. It's important to speak your manager's language. Some leaders prefer brevity, some want to see a detailed plan mapped out, and some want to be an active part of the solution.
Heart or Head?: Some supervisors respond more to emotions, while others prefer facts.
Hands: Don't just dump a new proposal on your supervisor's desk. Be sure to explain precisely how you intend to help with this task or ask how you can contribute. Not only will it show that you're solution-oriented (not just complaining), but also it can build trust and buy-in.
Read the full post at Edutopia: How to 'Manage Up' in a School Setting
Working on your communication skills? Here's how to build empathy and communicate better with colleagues.
Learning more about our AI Coach platform? Here's the latest news
We've rounded up the recent news about the AI Coach by Edthena for you. Check out what you need to know:
Edthena's new AI Coach has resources [for] teachers with a range of tasks including managing student behavior, facilitating group discussions, providing feedback for students and culturally responsive teaching.
When it's time for the teacher to develop a strategy for making progress, the platform offers curated content to help achieve their goal.
This evidence-based process enables teachers to receive many of the benefits of instructional coaching even if an in-person coach is not available.
Read more at Government Technology: Edthena Launches AI for Teacher Professional Development and at The Hogan Report: 5 Big EdTech Deals
Learn more about the AI Coach platform!
Teachers' professional learning needs are changing
Are you or your teachers feeling truly satisfied with professional development options?
If not, you're joining 80% of the educators in the recent K-12 Teacher Professional Learning Survey covered in this post by THE Journal.
So how can resources for teachers be delivered more effectively through PD?
Based on survey findings, here are the recommendations for schools offering learning opportunities to teachers:
Increase the availability of on-demand professional learning

Enhance the personalization of professional learning

Providing more targeted, personalized professional learning experiences can be enabled through more online and on-demand opportunities and third-party partnerships.

Boost the frequency of ongoing professional learning
Do these suggestions resonate with your professional learning needs?
Read more about the survey findings at THE Journal: Teachers Want More Online, On-Demand, and Targeted Professional Learning Opportunities, New Survey Shows
Did you know AI Coach by Edthena meets all of these professional learning needs? Here's how the AI Coach is personalized and flexible to teachers' time.
Missed last month's edition of Noted Content? Catch up on our Jan. 2022 top resources for teachers and coaches!