Top Reading for Instructional Coaches and Teachers – August 2020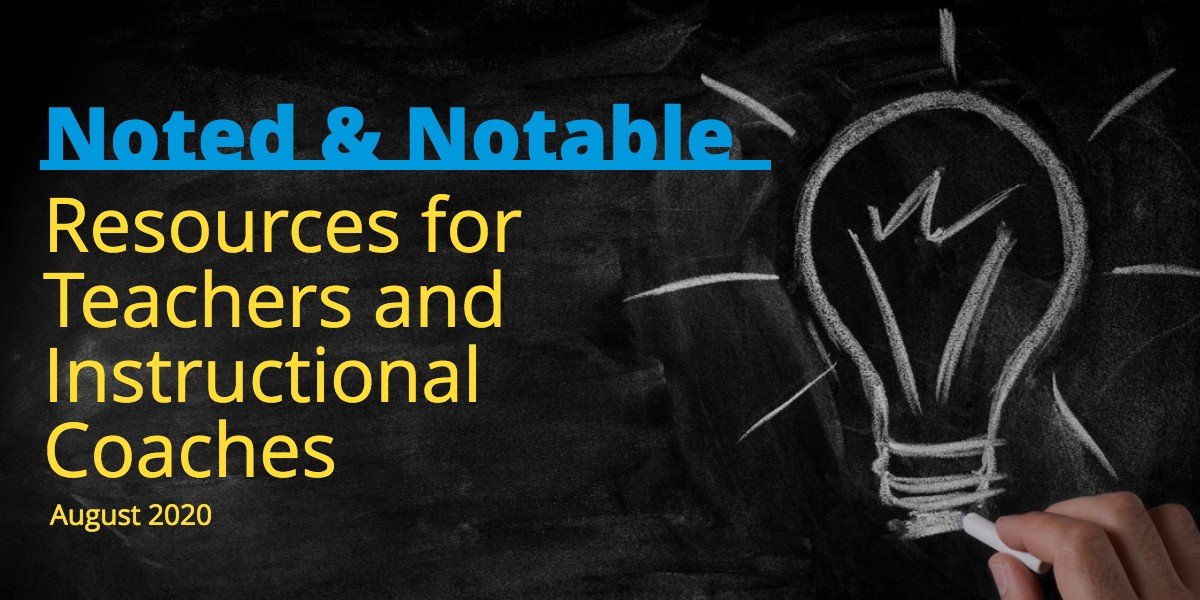 The school year has officially begun. Although it will look different depending on where you teach, and the age of your students, teachers and instructional coaches are still preparing for an academic year with new types of teaching.  
Many schools have already reopened or completed some form of remote teaching and professional learning over the summer. These schools provide some insights into what's to come, and how districts can be successful in this landscape.
Here are some resources for educators that are centered around the insights gleaned from districts who have rolled out remote professional learning plans, some safety precautions that have been effective for schools that have already reopened, and lastly, thoughts on how teachers can check in on their student's mental health. 
The challenges and possibilities of high quality, interactive remote professional learning
The New York City Department of Education's Division of Early Childhood Education (DECE) provides some insights about what they have learned from rolling out a system for online professional learning at such a large scale. 
DECE collaborated with colleagues from across the NYC Department of Education, including the Division of Instructional and Information Technology, to launch an interactive online professional learning management system, through which educators and early childhood program leaders could select from a range of online courses. For content, we partnered with outside organizations and the Department of Education teams, including the Office of Equity and Access. As classrooms made the move to remote learning, we were newly able to provide remote professional learning, asynchronously and synchronously, to educators and program leaders at the close of the school year.

To our delight, participant feedback was overwhelmingly positive. Educators enjoyed the chance to learn at their own pace and select the learning opportunities that best met their needs. Online professional learning presents opportunities for differentiated experiences that are accessible to more educators. The lessons we've learned since our unexpectedly quick rollout will allow us to build capacity not only during the pandemic but beyond.
Read more on Learning Forward: Moving early childhood professional learning online: What we've learned in NYC
Critical insights from schools that have reopened about how to reopen safely
Districts that have reopened are providing some insights for other districts to consider. Community transmission, safety precautions, and response planning are all vital to combat the spread among teachers and students.
The first critical factor in maintaining student safety when reopening schools is the level of illness in the surrounding community. "There are communities where it's not possible to reopen due to the level of illness," Nuzzo said. "If there are high levels of infections, staff and students may come to school infected and the virus will spread."
The second key factor is maintaining strict safety precautions. Even in communities where transmission rates are low, students must continue to wear masks and social distance in the classrooms.
Finally, schools must plan for how they will respond if a student or staff member falls ills with COVID.

A response will be more focused and effective if administrators have limited students' interactions by grouping them into cohorts or bubbles. This makes contract tracing easier because administrators will know who has been exposed, Nuzzo says.
Read more on District Administration: 3 COVID Insights From Schools That Have Reopened
I am an educator, how can I check in on my students' mental health?
As schools are beginning to reopen, educators must consider focusing their efforts on student social-emotional learning (SEL). Here are some strategies that educators can use to help students manage the extra stress that has come from the pandemic. 
All of these changes are stressors. And they represent only the best of cases. In the worst, children may be in unsafe or unstable home environments, they may be housing or food insecure, their family members may have lost jobs or incomes and they may have seen or experienced increased violence.

This has led to heightened concerns about children's mental health, a primary point of discussion during "Thrive: The Children's Summit," a live virtual event hosted on Tuesday by the Atlantic.

It's important to note that the pandemic has affected children and families in different ways, based on geography, race, socioeconomic status, disabilities and a host of other factors. Some children will naturally experience more stress and anxiety around COVID-19 than others, Pendley noted.
Read more on Edsurge: Are the Kids All Right? How to Check in on Their Mental Health During a Tough Time