Two Experts are Better Than One in Inclusive Coaching For Teachers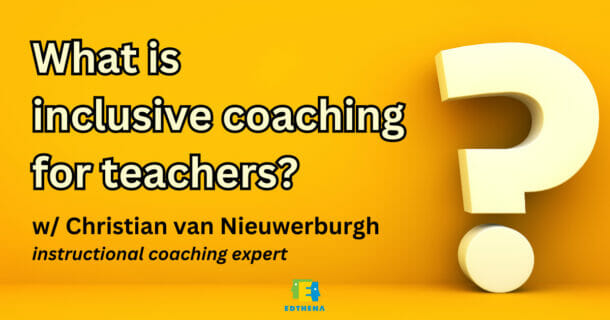 When it comes to fueling teacher development and growth, two education experts are better than just one.
Who are the two? The instructional coach and the teacher are the experts when using inclusive coaching practices for teachers' professional development.
That's according to Christian van Nieuwerburgh, the co-author of "Advanced Coaching Practice" and global director of Growth Coaching International.
The instructional coaching expert joined Edthena founder Adam Geller for a PLtogether Lounge Talk where the two discussed inclusive coaching practices and how this approach can enable greater equity in schools and communities.
You can watch the full conversation about inclusive coaching down below. Or, read on for highlights of Christian van Nieuwerburgh's expertise on treating all parties in a coaching conversation as experts.
What is inclusive coaching? Inclusive coaching means giving teachers autonomy over their professional growth
Creating the right environment in which teachers can grow and develop [means] putting the teacher in the driver's seat.
What does Christian van Nieuwerburgh mean by creating this ideal coaching environment?
The instructional coaching expert talked about how both parties in a coaching conversation must feel like equals.
According to Christian, instructional coaches and teachers create a shared culture, with both sides bringing their unique contexts and views to the conversation.
Inclusive coaching is the opposite of telling teachers what to do, which is often a pitfall of directive coaching, and can leave teachers feeling like they lack input.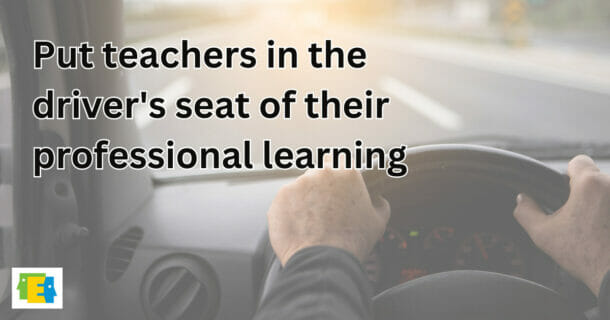 Telling teachers what to do puts teachers in the passenger seat during their teaching development.
Inclusive coaching empowers teachers to have autonomy over their growth and avoids making teachers feel like they are the "other" in their own development.
When teachers are in the driver's seat of their learning, they are empowered to be teachers who achieve greater impact with their students.
The roles of the two experts in an inclusive coaching conversation
Creating a more equal teacher coaching conversation and experience means there are not one, but two experts involved: the instructional coach and the teacher.
Christian van Nieuwerburgh talked about how the coach serves as an expert: "The coach's expertise lies in creating ideal environments for [teacher] learning."
Perhaps this involves the coach using the frameworks and specific coaching skills they have studied.
On the other hand, the teacher participating in coaching is the expert on their situation.
Educators know their classrooms and know their teaching practices best. Coaches must believe that teachers can figure out what they need to improve their instruction.
To put a point on it: The teacher is positioned as the expert on the instructional environment, not the instructional coach.
So how does Christian suggest coaches unlock teachers' expertise?
It starts with eliminating judgment that often gets in the way of empowering teachers as part of a coaching conversation.
Teachers, as many people, may have a fear of being judged, or perceived to be wrong or making mistakes. Christian shared:
The skill that we as coaches need to develop is to inspire confidence in [teachers] that they're not going to be judged. If we can do that, we can really unlock enormous potential in people.
With inclusive coaching, teachers feel safe from judgment and are the experts of their own instruction.
Teacher coaching is more equitable with an inclusive coaching approach
Teachers strive to improve their teaching practices to more effectively support students.
For coaches who want to more effectively, and equitably, support teachers, inclusive coaching is one approach to consider trying.
Watch the full conversation on inclusive coaching for teachers here:
Want more instructional coaching insights from expert Christian van Nieuwerburgh? Check out this blog post: 3 Skills and a Conversational Framework: What You Need for Better Instructional Coaching