Edthena Named District Administration "Top Product"
We're excited to announce that Edthena has been named one of District Administration magazine's "Readers' Choice Top Products for 2015".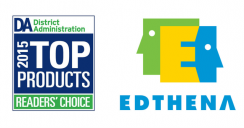 The winners were compiled from more than 2,100 nominations from the magazine's readers over the past year. They've been announced online and in the December 2015 issue of District Administration.
"It's incredibly exciting to be nominated by our users for this honor," said Adam Geller, founder and CEO. "We often hear that our technology is having a positive impact in districts, and it's humbling that our users wanted to share their successes with the readership of District Administration magazine."
Edthena helps districts successfully implement video coaching as part of their professional development process. Our partners include districts like St. Vrain Valley in Colorado. St. Vrain Valley was recently selected as one of the nine exemplar Future Ready districts selected by the U.S. Department of Education.
"It was inspiring to learn about the products being used in today's schools and classrooms that are helping districts succeed," said JD Solomon, District Administration's editorial director. "All of our 2015 honorees should be very proud of this achievement."
District Administration's Readers' Choice Top Products awards program informs superintendents and other senior school district leaders about products their colleagues around the country are using to help their districts excel in a variety of areas, such as technology, sustainability and curriculum instruction.