New Chromebook App Easily Records and Automatically Uploads Classroom Video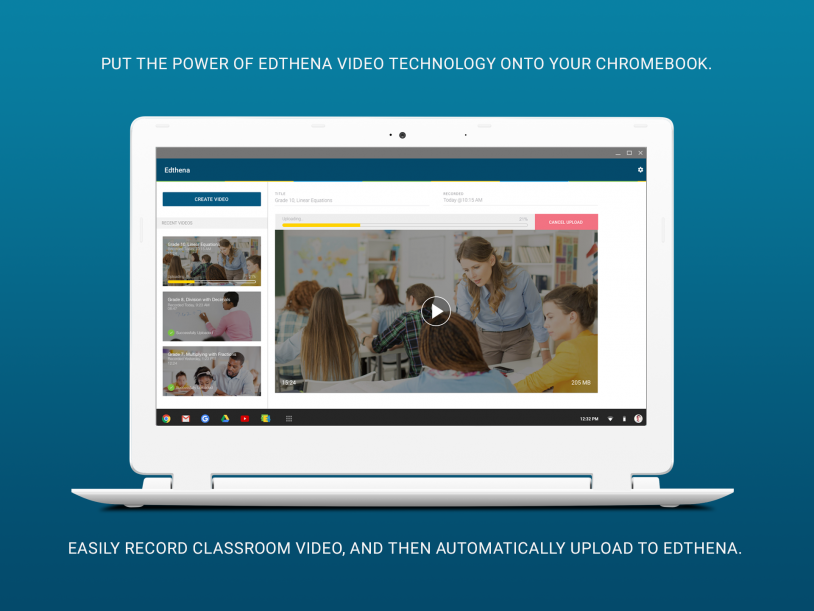 UPDATE: We have now fully integrated the recording process into the browser — No App Required!! Read more at Record and Upload Video with One Click: It's Now Possible within Google Chrome
Since the 2011 release of the first Edthena Video Tool, the landscape of devices in schools has evolved. While some Flip Video cameras are still in use (and still will work with Edthena), two new device platforms are becoming standard-issue in districts across the country: iPads and Chromebooks.
For the past year, we've supported iPads with a dedicated iOS app for mobile recording and uploads.
Given that Chromebooks are common, inexpensive, and have a camera, we felt compelled to find a way to transform these mobile laptops into recording and upload devices, too.
Today we're announcing the launch of the Edthena Chromebook app for video recording and upload.
The new Chromebook app is available for download from Chrome Web Store and is free to use for all Edthena users.
With this app, teachers can complete an entire video coaching cycle – from recording to upload to feedback – on a Chromebook device.
Designing for the device you already have
At Edthena we want to increase teachers' access to high-quality professional development. We think this leads to changes in classroom teaching.
An important component of making this vision true is staying aware of the cameras teachers use to record their teaching. We want to always ensure they can upload the video easily and reliably.
Supporting devices that are commonplace in school settings is important for ensuring equity of access. It's an unfair burden to teachers and schools to require devices which are proprietary, uncommon, or expensive.
As of today's launch, Edthena now offers video coaching tools for all major device platforms found in schools – Windows, Mac OS X, iOS, and Chrome OS.
Technical achievements
In addition to being proud of meeting the needs of our users, we are proud of the technical achievements of the team that built this app. It turns out that making video recording easy and video uploads reliable for Chromebooks is quite a challenge.
Chromebooks are more restrictive than the other platforms where we already offer video tools. The operating system of a Chromebook is, at the end of the day, only a supercharged web browser.
The simple solution for Chromebooks would be to live-stream a classroom video to our servers (like a Google Hangout video call). But we knew that this wouldn't work reliably in schools. A momentary bandwidth hiccup could completely ruin an important video recording.
So instead, through the creative problem-solving efforts of the Edthena engineering team, we developed a way to record a video onto the Chromebook's hard drive so the app can monitor and ensure a reliable upload.
The benefit to this approach is that the Chromebook app will successfully upload a video even if the computer is completely disconnected and moved to a new location!
We're confident that the release of this app is going to be a big help to educators across the country who want to use their Chromebooks to record classroom video, and, in doing so, increase their ability to access high-quality professional development that helps lead them to changes in their classrooms.