How Arkansas Teacher Corps is Fighting Teacher Shortages (via USA Today)
In the News
Addressing teacher shortages is no easy feat. Due to a variety of factors, such as declining completion rates at traditional teachers' colleges, classrooms face shortages of educators which negatively impacts student learning.
However, this USA Today article highlights how some organizations are working to fill that gap. Take, for example, how amid significant teacher shortages, Arkansas Teacher Corps is seeing "soaring retention rates."
What is the program doing right? One of the effective teacher retention strategies has been using video coaching to support teacher training.
USA Today shares more about how Arkansas Teacher Corps addresses teacher shortages. Continue reading for highlights of the article, including how video coaching removes barriers facing educators.
Find the full article at USA Today: Amid crippling teacher shortages, some schools are turning to unorthodox solutions
How Arkansas Teacher Corps uses video coaching to combat teacher shortages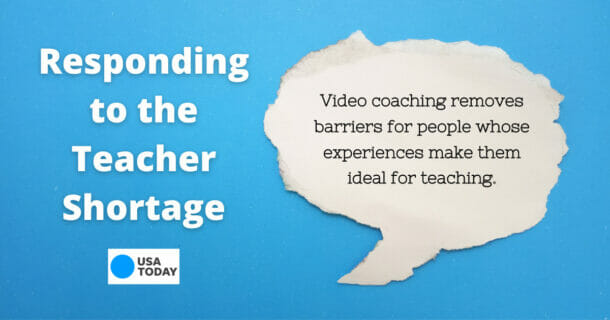 Arkansas Teacher Corps is an alternative certification program helping Arkansan educators become licensed while they are working as teachers.
The article explains,
Programs in Arkansas and elsewhere are giving college graduates without teaching licenses an accelerated path to certification, allowing them to work and study simultaneously.

[Arkansas Teacher Corps] recently shifted from recruiting newer college grads to helping teachers already working but who aren't licensed. It now offers its intensive training and coaching virtually, too.

The result: Fewer corps members are leaving within the first year of the program.
Arkansas Teacher Corps (ATC) uses Edthena Video Coaching to help provide virtual coaching to educators in the program. ATC has seen the program's educator retention soar after "shifting attention to existing staff and more virtual options."
By utilizing video coaching, the program's teachers-in-training have easy access to coaches and mentors without needing to drive across the state. The program's seven-week intensive training, which used to only be offered in-person, is also now available virtually.
Barriers to teaching, and one of the reasons that teacher shortages are increasing, can be caused by teachers not having consistent access to support.
Lizzy Hetherington, the alt-cert organization's Director of Teaching and Learning, noted:
"[Video coaching] just makes it much more accessible to the demographics of teachers that we're now working with.

Most of these teachers are established in their communities. They have families. They can't just go off for seven weeks to live in a dorm and leave their families behind."
Having virtual and asynchronous support, including feedback from mentors on videos of their teaching, breaks down the barriers for people whose experiences make them potentially strong teachers, but don't have the time or money to drive long distances to meet their coaches in-person.
In fact, "using video coaching has quadrupled the number of observations and touchpoints with first-year teacher candidates," Hetherington has said.
Find the full article, including how other teaching programs around the country are addressing teacher shortages, at USA Today: Amid crippling teacher shortages, some schools are turning to unorthodox solutions
Learn more about Edthena Video Coaching.