AI for Teacher PD? It's Happening in Spokane (via EdWeek)
In the News
Providing all teachers across a district with coaching and feedback can be difficult, due to instructional coaches' limited capacity.
Spokane Public Schools decided to try AI for teacher PD and were recently featured by Education Week for their successful pilot.
The EdWeek article put a spotlight on the 29,000-student district's Title I and special programs coordinator, Nick Lundberg.
What made Spokane's implementation of a technology tool, the AI Coach platform, so effective for "enhancing instructional coaches' work and extending their capacity"?
Continue reading for highlights of the Special Report article, including how AI for teacher PD and reflection can problem-solve for limited coaching capacity across a district.
Read the full article at Education Week: Can AI Do Teacher Observations and Deliver PD? In Some Schools, It Already Does
How Spokane Public Schools Use AI for Teacher PD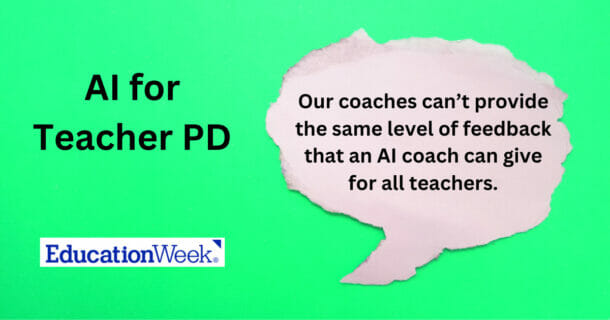 As a district leader in providing supports for teacher learning and improvement, Nick pointed to this common problem:
For districts with instructional coaches, coaches often can't provide the amount and frequency of feedback for all teachers that teachers need to grow. 
And that's districts that even have coaches to support teacher professional learning.
That's why Nick decided to pilot the AI Coach platform, a tool for AI-guided teacher self-observation and reflection.
"The AI coach allows us to provide opportunities to all our teachers to reflect on their practice in an authentic way," said Nick.
He continued, "Teachers watching themselves and/or others teach is arguably one of the most powerful learning opportunities for teachers to grow in their practice."
In the AI coaching cycle, teachers upload a classroom teaching video, and the virtual (computerized) coach guides them through a self-reflection, goal-setting, and classroom action-planning process.
Learn more about the AI coaching cycle.
AI coaching benefits teachers and instructional coaches
With AI Coach, teachers were able to continue improving their teaching practices on their own time (in addition to with their coach's support).
Teachers could complete a cycle in multiple sessions whenever they want, providing autonomy and flexibility to work on their professional learning.
Instructional coaching capacity was also increased: AI coaching cycles didn't replace coaches' support but enhanced what coaches and teachers could accomplish between their classroom visits.
Instructional coaches could have teachers complete coaching cycles as pre-work before coaching conversations or in between their observations to continue working on a specific teaching skill.
What's next for AI coaching in Spokane?
After receiving positive feedback on their pilot and implementation of AI Coach with teachers across multiple schools in the district, Nick talked about plans for expanding the AI for teacher PD to more elementary schools and as an asynchronous PD course.
Nick also sees the platform as a helpful way to encourage teachers to share videos with peers and coaches to support their growth.
Read the full article at Education Week: Can AI Do Teacher Observations and Deliver PD? In Some Schools, It Already Does
Learn more about AI Coach by Edthena and try it yourself for free here.