Can the AI Coach Platform Really Help Teachers with Coaching Cycles? Yes (Plus Some More Info)
So you've heard about the AI Coach by Edthena, and now you want to know more.
How can the AI Coach platform guide teachers through coaching cycles, and what exactly is AI again?
These are great questions since there aren't many examples of artificial intelligence related to teachers' professional learning.
Not to worry. This post will help you understand how the AI Coach platform supports educators in their coaching cycle and self-reflection process for improved teaching.
Read on for answers to frequently asked questions about how the AI Coach platform works and what a coaching cycle looks like.
How AI Coaching by Edthena supports teacher professional learning
Artificial intelligence (AI) in the AI Coach platform personalizes teachers' experiences throughout their coaching cycles.
The AI technology is not watching teachers' videos and is not able to tell teachers what to do in their classrooms.
The platform learns about each teacher's professional priorities and then offers relevant guidance. The virtual coach is coaching teachers to coach themselves.
For example, if a teacher is prioritizing "checks for understanding," they'll see customized observation tips about CFUs as they analyze their own teaching videos.
Teachers would also receive curated resources about CFUs to help support their growth in that specific area.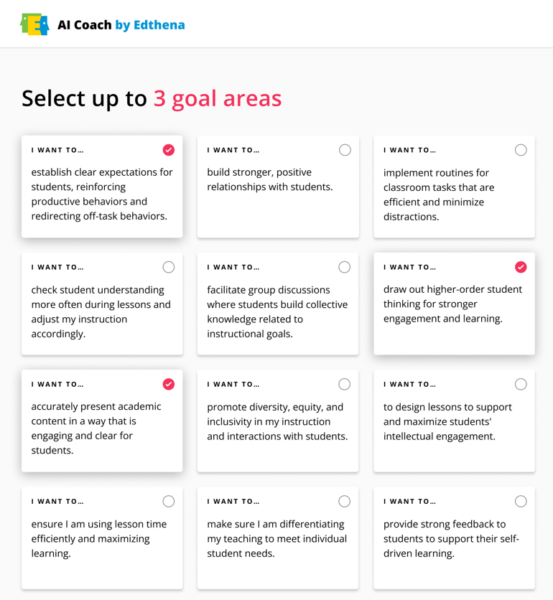 The AI Coach platform is trained by experienced instructional coaches to support teachers in many common goal areas, including:
Managing student behavior
Positive teacher-student relationships
Classroom routines and procedures
Checking for student understanding
Facilitating group discussions
Eliciting student thinking through questioning
Clearly presenting and explaining content
Culturally responsive teaching
Student:teacher talk ratio
Pacing
Differentiation
Providing feedback to students
Coaching cycles are easy to execute within the AI Coach platform
What are the phases of the AI Coach coaching cycle?
Coaching cycles in the AI Coach platform have four phases:
Analyze. After recording and uploading videos of their teaching, teachers analyze their videos by adding timestamped comments.
Reflect. Teachers reflect on their comments and summarize their strengths and areas of potential improvement.
Enact. Teachers develop a near-term goal and concrete plan of action for a next step in improving their teaching practice.
Impact. Teachers document the impact of their plan on student learning and outcomes.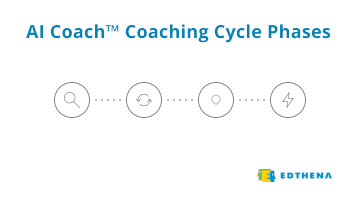 At the end of the coaching cycle, teachers receive a Reflection Log which documents their learning, and a PD clock-hours certificate.
How long does the coaching cycle take?
The AI Coaching cycle takes a teacher approximately two hours of active-learning time spread across two weeks.
Teachers first spend about one hour analyzing their video, reflecting on what they see, and developing a plan of action to make progress against their stated goals.
Then, the teacher pauses to implement the change within their classroom and collect new data.
That data is shared back to Edie, the virtual coach inside the AI Coach platform, as part of the Impact phase of the coaching cycle.
Do teachers need to complete their coaching cycle in one session?
One of the benefits of the AI Coach platform is that teachers can conduct their self-reflection and learning on their own schedule.
We know educators must stay flexible to the changing demands of the school day, so teachers have the option to pause their coaching cycle at any point during the process and continue later right where they left off.
Coaching cycles guide teacher self-reflection for growth
The AI Coach platform is not about replacing coaches, but about enhancing the self-reflective work teachers can do on their own in addition to any coaching they already receive.
The coaching cycles inside the platform guide teachers through the work of analyzing, reflecting, and enacting, all toward a positive impact on student outcomes.
Have other questions? Learn more about the AI Coach platform here. Want to try it out for yourself? Sign up for access here.