What Edthena Learned as an edTPA Platform Provider
This past spring Edthena became an approved edTPAⓇ platform provider. This means we provide for the secure transfer of edTPA artifacts from Edthena to Pearson for scoring by Pearson-trained and calibrated scorers.
Our goal for participating in this process was to use technology to help streamline a difficult yet important step for becoming a teacher in some places. We believed our core expertise as a company — online tools to quickly and easily annotate classroom video — could also provide a scaffold of support to candidates before and during their process of assembling the portfolios.
Since most candidates have finalized the portfolios they started last spring, we figured it was a good time to reflect on whether or not we achieved these goals.
What the data say
When we release new features in the Edthena platform, we measure the activity of the users who are engaging with them. This allows us to analyze how things are being used.
Sometimes we measure the number of times a button is clicked. Sometimes we measure the time it takes for users to complete a process.
Of the data we collect pertaining to the edTPA features, portfolio transfer time and transfer success rate are the two numbers we watch closely because they're an indication of the things that are directly under our own control.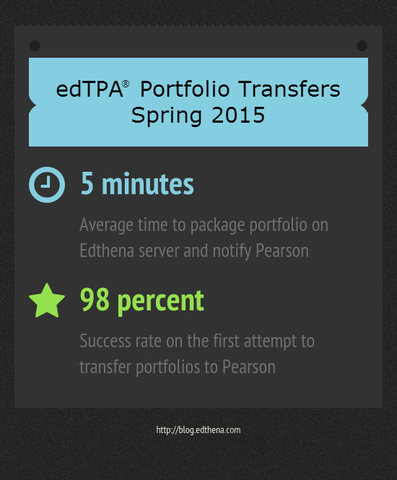 We can also calculate things like how long it took candidates' portfolios to process on the Pearson servers. Hint: It was also a fast timeframe. However, we can't say for sure how the extent to which our own efforts to prepare the files are in reducing processing time. And we always recommend that candidates transfer portfolios in advance of a scoring deadline anyway.
What the users say
The quantitative data only tell part of the story. The opinions of the users – the qualitative data – are also important.
We asked candidates and coordinators about their experience using Edthena via online survey:
"I found Edthena so helpful in making sure I had all the correct materials in the right place to submit for the edTPA." – Candidate
"Edthena seems to be the simplest way to complete the edTPA." – Candidate
"Overall, the students really loved using Edthena for the edTPA and found it very helpful." – Instructor
One of the reasons we think our users were this happy with our edTPA features is that we involved them in the design and development process.
For example, it was a safe bet that we'd have copies of the edTPA handbooks and templates in our platform, but there were many potential places we could put the documents for download. Determining the best places for the documents was surfaced through user interviews before we ever drew a single design.
How we learned with our users
We're very proud of our 98% success rate transferring portfolios, but maybe there were ways to edge closer to 100%.
We actively analyzed our failures to determine if any of the issues were caused by something we didn't think of during the design process.
For example, early in the semester a candidate used a question mark in one of her file names, and this was not compatible with the rules for file names during the transfer process. This was something we hadn't anticipated, but we quickly released a change to ensure no other candidates had the same problem.
Actually, as it related to file names, we added this question mark rule to the set of automatic changes we make behind-the-scenes for candidates. In addition to the formatting rules, we also add required labels to file names like "Clip 1" or "Student 2."
Moving forward
A year ago we didn't have anything in our platform related to edTPA. And today we're fully engaged in this work of supporting teacher candidates to assemble a set of evidence that, in many places, can determine if someone becomes a teacher.
While we hear from many that the assessment is complex and challenging, we continue to believe that the assessment is aligned to the same skills we help our partners implement into their work of supporting teacher candidates: how to analyze and reflect on one's teaching.
It is incredibly exciting to watch teachers use the platform to power their growth as a teacher — whether or not it's related to edTPA — and we're excited to continue supporting teachers in training.
The edTPA trademarks are owned by The Board of Trustees of the Leland Stanford Junior University. Use of the edTPA trademarks is permitted only pursuant to the terms of a written license agreement.