5 Easy Ways to Use Edtech Tools with In-Person Students
With students back in classrooms, you might be tempted to toss aside all the edtech tools you relied on during distance learning.
But, Monica Burns urges teachers and school leaders to reconsider. The founder of Class Tech Tips shared why and how students can still benefit from edtech tools in in-person teaching.
In this PLtogether Lounge Talk with Edthena founder and CEO Adam Geller, the two former teachers discussed preparing students for jobs that require digital collaboration and five ways to employ edtech tools in the classroom.
Watch the interview above, or continue reading for highlights of the why's and how's behind in-person edtech tools.
Remote teaching has passed and the time for digital tools is now
"There are lots of [edtech tools] that we can bring into this school year without leaving all of them behind," said Monica Burns. "We were able to do something totally different when we were using digital tools."
Many edtech tools actually enhanced learning experiences for students, giving them quicker access to materials and addressing students' different needs. This use of digital tools should be continued.
In addition to the opportunities that edtech tools can provide, it's important for students to be well-versed with using technology for future jobs.
Monica shared, "In a professional environment, people are asked to work together within digital spaces."
A digital skill set is crucial for students of any age, to support their familiarity and comfort with using technology.
In-person strategies for using edtech tools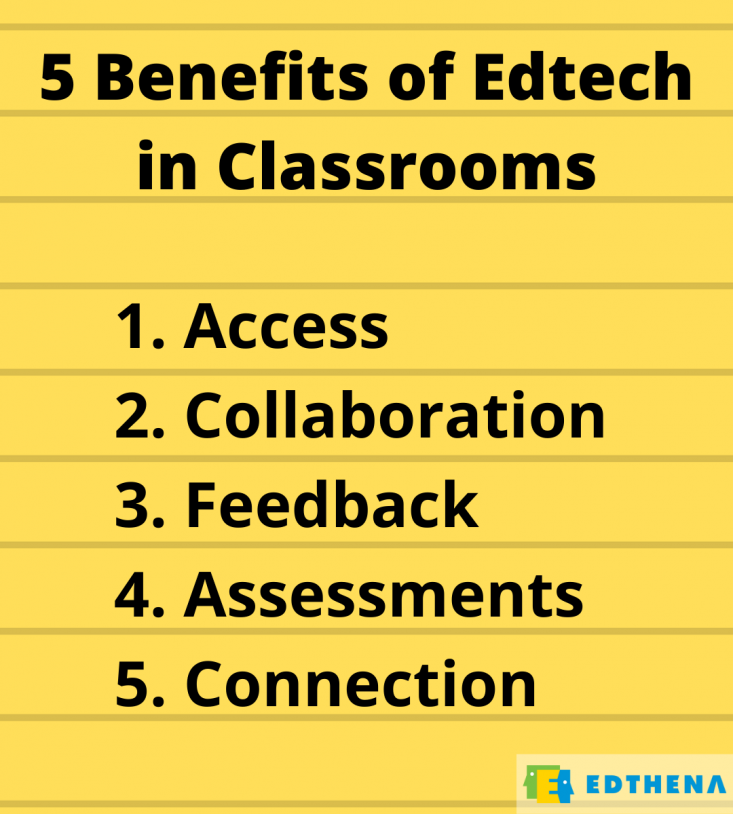 "There are lots of opportunities for students to make a product of their learning using digital tools," Monica stated.
Here are five ways Monica Burns shared for teachers to incorporate digital edtech tools into their classroom teaching.
More access. Your printing capability may be limited, so use what's digitally available to "give kids quicker access to online leveled resources," shared Monica Burns.
Student collaboration. Students can share screens and digitally collaborate to build or craft a product of their learning.
Perhaps this means co-authoring an essay or creating a PowerPoint presentation.
Peer feedback. Students in the same or different classes can give each other feedback, more comfortably and asynchronously.
"You might look at that in terms of global collaboration," said Monica. "Maybe there's a partner class in a different part of the world. … They can jump into a shared document and give feedback to one another at a time that's right for their school day."
Formative assessments. Monica said, "We can use technology to address the needs of lots of different students." Students can share their learning using edtech tools that offer video or voice options, instead of traditional paper and pencil.
More connections. Edtech tools provide students the opportunity to connect with a larger audience. For example, students can create a podcast instead of writing a traditional essay.
"[This] doesn't mean we're abandoning the thesis statement or supporting arguments." But students can, Monica continued, "publish their work more widely."
Stay excited for in-person teaching but don't throw away the tech
While the return to hands-on experiences in classrooms is exciting, digital and edtech tools can further amplify students' learning.
"Don't toss all of those tech experiences aside," advised Monica Burns.
Instead, use edtech tools strategically to give students more access and ability to digitally collaborate and experience learning in different modes.
Interested in more classroom best practices? Check out all the education expert insights we've gathered.