How Teachers Like Me Can Use AI to Improve Teaching (via eSchool News)
In the News
If you're an educator trying to improve teaching, you've likely wondered questions like these:
"Is my instruction still engaging and fun?" and "Am I really helping my students become independent thinkers?"
A recent eSchool News article shared how Summer Workman, a 17-year teaching veteran, continually improves her teaching and ensures her instruction meets students' needs. 
Summer, a 7th grade Language Arts teacher for the Keller Independent School District (TX), participated in a pilot for AI Coach by Edthena, a platform in which "teachers are guided by a virtual coach as they reflect on videos of their classroom teaching and work through coaching cycles focused on specific areas of instructional practices."
Summer shared about how the artificial intelligence-powered coaching process supported her development as a teacher with eSchool News.
Keep reading for Summer's highlights of how using the AI Coach platform can help educators improve teaching.
Want to try AI Coach yourself? Sign up for a free trial here.
Improve teaching by becoming a more reflective teacher
Summer engaged in the AI coaching cycle by recording a mini-lesson with her students and analyzing and reflecting on the video inside the platform.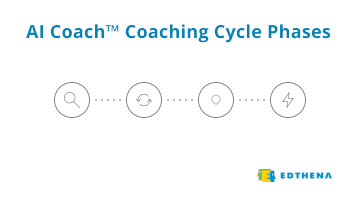 Guided by self-observation tips and questions from Edie, the virtual computerized coach, Summer was able to reflect that some students were not participating in group discussions.
"Seeing this on video reminded me how important it is to stay aware of all of my students' behaviors and to ask more prompting questions to increase participation and engagement," said Summer.
How did this help improve teaching?
"It is a game-changer getting to see yourself in action, whether it is noticing how often you say certain things, or when you miss prime opportunities for questioning, or when you simply knock a lesson out of the park. Being able to watch myself, and honestly reflect on what I saw, has had such an impact on my teaching."
A self-reflective teacher, with helpful technology like the AI Coach platform, can push their professional learning and development to improve teaching.
Read the full article at eSchool News: How teachers like me can use AI to improve their teaching
Ready to try out AI Coach yourself? Sign up for AI Coach trial access.