Quickly Turn Comments into Clear Professional Goals with New Edthena Commitments
The daily routine for a teacher is hectic: Coordinate homeroom. Execute lessons. Monitor lunch. Grade papers. Call parents. Plan for tomorrow.
And somewhere within this busy schedule, teachers are also participating in professional learning to continually increase their effectiveness.
With Edthena for video-powered PD, this means the teacher is recording a classroom video, discussing with others for feedback, and (hopefully) determining a next step for what to change or what to try next. Our own desire is to help teachers take these next steps from good idea to in-classroom action.
To help teachers keep track of all the professional development to-dos coming from their coaching conversations, we've developed a new tool called Commitments.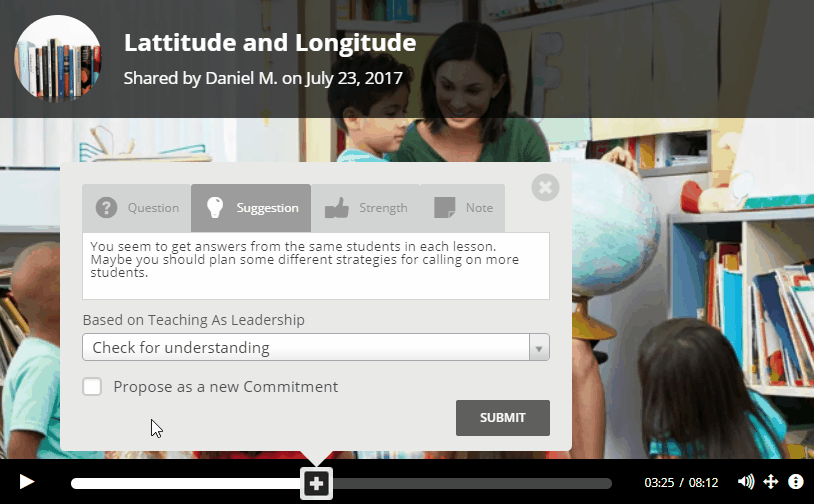 Commitments enable teachers, coaches, and peers to turn any comment inside Edthena into an actionable proposal for a next-step. Teachers choose whether to accept or decline the proposal, and they can always set their own goals. Teachers then finalize the timeline for action, align the goal to a professional skill, and share the goal with a partner. This partner can be the person who proposed the commitment or any other colleague.
Share commitments with partners to increase success
We feel the commitment partner is small but important detail of this new toolset. Our ongoing conversations with teachers and coaches (plus our team's own classroom experience) highlighted that sharing the goal would probably increase the timely follow-through by the teacher.
Sharing a goal socially to increase completion rates builds on the research idea of loss aversion — in essence, you might worry about losing the respect of a colleague if you don't keep a promise. It also draws inspiration from real-world applications like online weight-loss communities and the Stickk goal-setting system.
Ultimately, if we can help teachers make more change in their teacher practice, we are getting closer to our own goal of helping all teachers ensure they are providing their students the best possible learning experiences.

Track all professional goals in one place
Commitments can be linked to content inside Edthena, but it's also possible to document goals from other professional development experiences. For this reason, we hope Edthena can be the all-in-one professional learning tracker for teachers.
For example, a teacher in Texas may have already established big-picture goals with his principal as part of the T-TESS process. Throughout the year, the teacher can now track his ongoing goals with Commitments — each one aligned to a T-TESS standard. At the end of the year, the teacher will have a detailed record of the changes implemented and his reflections on the impact. And all of this is reported in the language of the T-TESS system.
Commitments will benefit instructional coaches and academic coaches, too.
One coach we talked to said she is currently keeping her teachers' goals in a composition notebook. Now, the coach will be able to propose commitments and follow-up on teachers' progress inside the Edthena platform.
If you think that Commitments could be helpful to your organization and your teachers, let us know. We'd be happy to show you what's possible.