Issuing Micro-Credentials to Your Teachers Can Reward Competency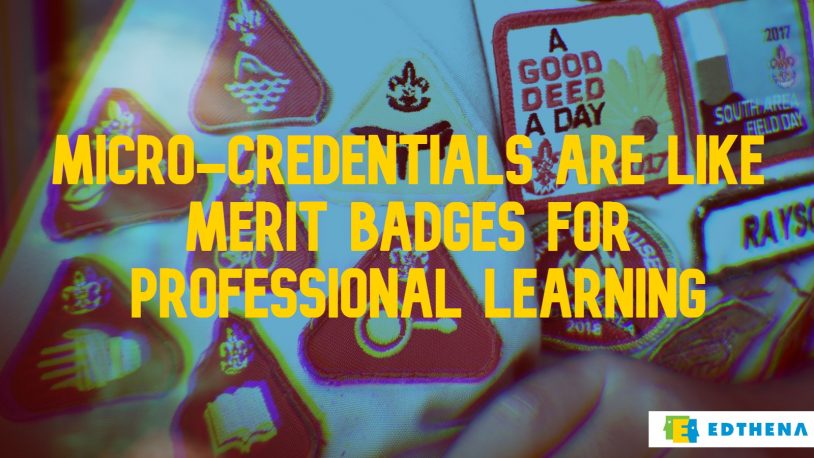 Micro-credentials are an emerging method for helping teachers document their professional learning. They offer districts an innovative way to document teachers' skills while allowing the teachers to share their progress with others via a digital badge. Organizations that want to issue micro-credentials to their teachers can accomplish that process via their Edthena partnership.
Edthena brings together the key components of the micro-credential process in one place:
District leaders can define competencies and how educators will demonstrate skills.
The ability for teachers to gather evidence and securely share it with a coach or mentor.
A toolset for a school leader or instructional coach to review and assess the teachers' progress.
A process to issue the micro-credential to the teacher in a way that's easily tracked.
One of the hallmarks of the micro-credential process is the use of evidence to demonstrate a skill. Gathering evidence of teaching and learning is the core of the Edthena experience, so micro-credentials are a natural extension to the professional learning process happening inside of Edthena. Evidence inside Edthena can range from videos of teaching to unit plans to sample student work.
In the past, district leaders told us a barrier to trying micro-credentials was the unknown technical complexity to issue the micro-credentials and the worry about adding another software platform into the mix. Now these barriers are eliminated.
School districts can use Edthena for their ongoing video-powered professional learning like instructional coaching and video observations, and micro-credentials can be available, too. In fact, we can help an Edthena partner district launch and issue their first micro-credential in the same day!
We should also make sure to mention that the learners for a micro-credential can be anyone within the district. One of our partners currently uses Edthena to gather and assess evidence for principal micro-credentials.
Get a free white paper about implementing micro-credentials
How do micro-credentials work as part of ongoing coaching?
Organizations that implement Edthena do so to streamline feedback to teachers and increase teacher-to-teacher collaboration. And now it's possible to add a teacher-driven micro-credential process into that ongoing feedback loop.
Let's imagine there's someone whose official role is instructional coach. They're using Edthena for their coaching and feedback to a cohort of teachers. As part of the shift back to in-person learning, the instructional coaches may have been trained by the head of professional learning within the district to support science teachers on their use of academic language within the content area. For this example, we'll imagine there are four indicators that the district is looking to see within classroom environments.
The coach engages the science teachers within their buildings for regular feedback on their teaching. As the semester goes on, a few teachers have videos that, when taken together, demonstrate all key indicators. Those teachers can now apply for the micro-credential.
The coach has permission from the district central office to issue the "Use of Academic Language in Science Classrooms Level 1" micro-credential, so they can award the micro-credential to their teachers in just a few minutes. The teachers receive their digital badges via email and can transfer them to a badge backpack or post them to their professional profiles like LinkedIn.
Yes, it's really that simple!
How do micro-credentials work as part of an on-demand process?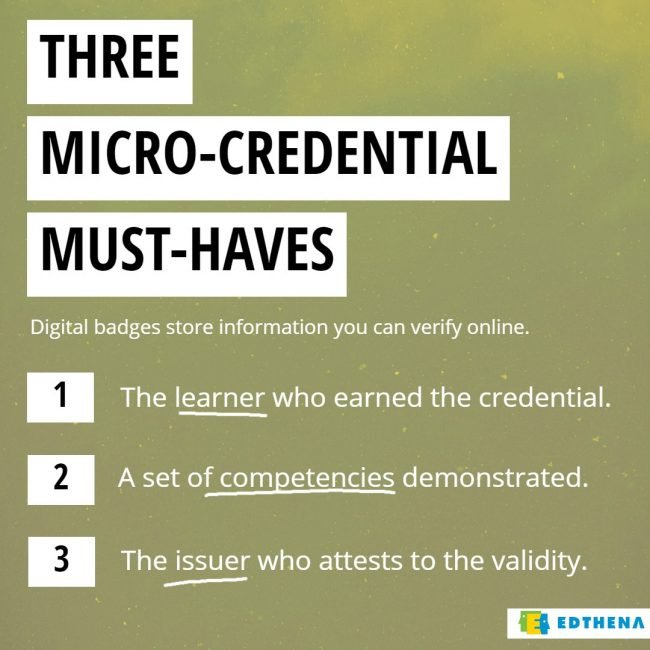 In the example above, the micro-credential was something that the teacher earned as a byproduct of the ongoing feedback cycles with a coach. The micro-credential served as a way to document the progression of the teacher in mastering certain skills.
But what if there are no coaches assigned to give feedback and serve as the in-the-moment assessors? Or what if you have some micro-credentials that are purely teacher-driven, opt-in experiences?
It's possible to use Explorations inside Edthena to create a more traditional, module-style approach to micro-credentials. The district leaders design the learning experience to represent the skills that should be demonstrated through evidence by the teacher. As teachers access the Explorations and submit them, an authorized person in the district can assess the evidence and issue the micro-credential to the teacher.
So, if the science teacher micro-credential was offered on-demand, a science teacher could gather their video evidence, annotate the key moments, attach other required documentation, and then submit to the right person for evaluation. The submission from the teacher would be available to the assessor for review, and once feedback is entered, the system automatically notifies the teacher.
What are micro-credentials and why are they useful for teachers?
Micro-credentials are a powerful tool for helping teachers document professional learning. They go well beyond a certificate of participation to create a record of demonstrated skills. A key feature of micro-credentials is that they're issued as digital badges that can be portable across organizations and (potentially) states. Badges issued by Edthena partners for evidence inside Edthena are verifiable and compliant with the Open Badges standard.
It's possible for micro-credentials to represent large chunks of skills as well as smaller, more bite-sized learning. At the heart of micro-credentials is the idea that there must be evidence, presented by the educator, that is assessed by someone with authority on behalf of an organization that will issue the micro-credential. In our case, that organization is the district.
Previously, micro-credentials have been something that districts might seek out from other organizations like the Friday Institute and Digital Promise, which both offer a catalog of options. These outside learning options can be valuable for teachers, and they are convenient since the assessment is done by outside evaluators. But these outside learning experiences are not always aligned with the priorities of a particular district.
What's exciting to consider is that micro-credentials can become a feature of your existing professional learning processes. As teachers gather video evidence and other artifacts from their classroom environments for feedback, those same artifacts can become the evidence for the micro-credentials, too. In this way, micro-credentials don't have to be a "something extra" but, instead, can be an integrated value-add your teachers receive as a byproduct of their professional development process.
Read more in our free downloadable resource that provides a comprehensive overview of micro-credentials and how they can be used to enhance the professional learning process.  
Interested in implementing micro-credentials in your organization? Reach out to your partner success manager or, if you're new to Edthena, send us a note at !