Introducing the Honorees of the 2021 Teacher Leader Impact Awards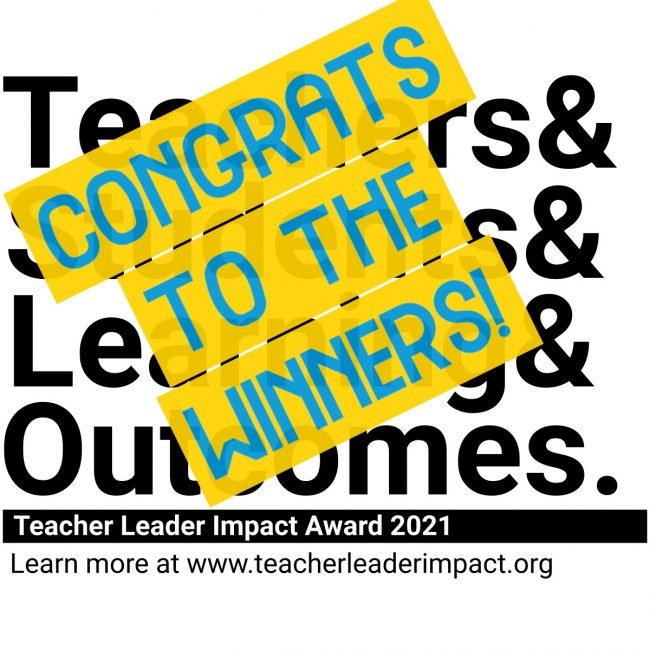 This spring, we asked you to nominate the best teacher leaders making an outstanding impact in their district and creating spheres of influence extending beyond the classroom… and you answered!
Here are the nine honorees of our first Teacher Leader Impact Award. Each teacher below is doing incredible work, and we could not be more excited to recognize and celebrate them.
As honoree Alicia Stevens reflected, "This year, more than ever before, teachers have worked so hard to ensure that our students feel safe, respected and have their social and emotional needs met while working on rigorous academic expectations. ALL teachers have done a phenomenal job to make this year happen! It is truly an honor to be chosen for this award!"
We couldn't have said it better ourselves. Congratulations to all.
Tasha Jones
Putnam County Schools – Eatonton, Ga.
Tasha Jones is an ELA middle school teacher and this year has set up her classroom for virtual success for students who decided to stay home due to COVID-19. A teacher with a focus on standards and social-emotional learning, Tasha also embraces experiential learning, using the district's historical archives to have students reflect on themselves and their belonging in the community. It's no wonder that Tasha was also selected to be in a teacher leadership program where she is a mentor to other teachers in the building.
Daniel Miller
Fairfax County Public School System – Fairfax County, Va.
Daniel Miller is an English and AP Capstone teacher and a leader who creates community at the same time as topping the charts on test scores. In addition to teaching, he has served as department chair, swim coach, and Russian program manager. He also develops high-quality and high-impact professional development for his colleagues. Daniel undoubtedly leads with inclusion, equity, and opportunity at the core for transformational results.
Talking about his passion for the work, Daniel said, "My passion for teaching is fueled by my students. Seeing their growth as readers, writers, thinkers, and problem-solvers in our world gives me the motivation and determination to stay in the classroom to provide opportunities for them to grow even more because that then makes me a better teacher."
Stacy Musick
Chambersburg Area School District – Franklin County, Pa.
Stacy Musick is a third-grade teacher who exemplifies how to utilize a learning management system and include technology in a blended learning classroom. She is celebrated for having done a phenomenal job integrating the curriculum with the new LMS as well as engaging students in the learning process while virtual. Her students are not just learning but mastering the content.
Meagan Pryor
Keller ISD – Keller, Texas
Fourth-grade teacher Meagan Pryor is a deeply committed and passionate educator. She is a member of her school's master teacher cohort and has envisioned a school environment in which teachers are true leaders. In addition to writing the elementary ELA curriculum, she assists teachers with implementing technology in intentional and effective ways. Meagan is truly a thoughtful educator.
Reflecting on the award, Meagan said, "It is an honor to be recognized. My life's work is to make a positive impact in the world of education and I believe that can be done through thoughtful and intentional relationships with fellow educators, students, and the support of my community!"
Desire Roberts
Nampa School District – Nampa, Idaho
Desire Roberts is a second-grade teacher and PBS-system extraordinaire in the Nampa School District, perfecting a school-wide system of positive behavioral supports. She supports teachers in their work with children who have high behavioral needs and with the response to the intervention process. She is also an advocate for strong mental health strategies for teachers and students.
Desire underlined the true importance of teaching: "Children are our future and if we do not pour into them all the love, patience, kindness, and forgiveness that the world rarely shows others, how can we expect them to be any different than what the world presently is? I want to encourage each child and teacher to strive for their best through positive relationships and self-exploration!"
Holden Rowe
Broken Arrow Public Schools – Broken Arrow, Okla.
Holden Rowe, a science teacher, is a positive leader at Broken Arrow High School. He celebrates teachers and support staff and has facilitated a Teacher of the Month program and weekly staff celebrations. Solutions-oriented and enthusiastic, Holden is a valued member of the BAHS team.
Holden told us about his inspiration: "As a child, good teachers changed the course of my life forever. Being able to now be that teacher for students is deeply gratifying on both an emotional and professional level."
Marisa Specht
Griffith Public Schools – Griffith, Ind.
Third-grade teacher Marisa Specht at Griffith Public Schools is always going above and beyond to create an inclusive classroom and implement project-based learning. Students feel valued and not only enjoy going to school but thrive in a positive environment.
Marisa recounted, "I was inspired to become a teacher from my father (a retired teacher) and my fifth-grade teacher, Mrs. Vela. They taught me the importance of making connections with students, being positive, and making learning engaging and fun. I hope I am making a difference for my students the way both of those educators did for me."
Alicia Stevens
Metropolitan School District of Lawrence Township – Lawrence Township, Ind.
As a third-grade teacher, Alicia Stevens has a vision of success and high expectations for her students. As a Team Lead at Crestview Elementary, Alicia holds those same high standards in her work with colleagues. She is a knowledgeable and skilled instructional coach. Alicia is also committed to equity and social justice. In her role as a member of the district's curriculum development team, Alicia ensures that culturally responsive literature and topics of social justice are represented.
Jill Taylor
Broken Arrow Public Schools – Broken Arrow, Okla.
Jill Taylor, math teacher and math department lead, is very involved at Broken Arrow Public Schools. Working with twenty-five teachers in her department as well as sponsoring the National Honor Society for students, Jill is supporting many individuals. She can always be seen at all events cheering on students and is known for taking new teachers under her wing.