Capture Great Teacher Audio with a Low-Cost Wireless Classroom Microphone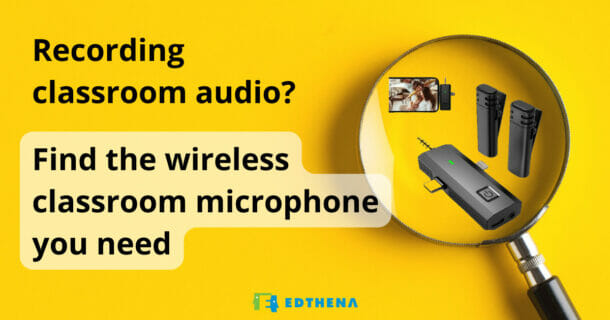 Our hot tip for efficiently capturing classroom instruction? A hot mic.
A wireless classroom microphone, that is.
When recording classroom teaching, of course the video component is important. However, capturing crisp teacher and student audio is also integral for later instructional analysis and reflection.
Luckily, wireless classroom microphones are easy to find and low-cost to purchase for teachers or professional development and school leaders reviewing teaching videos.
We've outlined exactly what to search for to find the plug-and-play solution you need to capture classroom audio.
Key features when searching for a wireless classroom microphone to record teacher and student audio
High-quality cameras are in many devices these days and educators can use existing cameras on their phones, Chromebooks, iPads, etc., to record classroom footage.
Getting crisp and clear audio of teacher talk or of students during group work isn't as reliable with those microphones, though.
Amazon and other product listings change frequently but an effective wireless classroom microphone will have the same key features.
If you're recording and reviewing classroom video for teacher improvement, search for a wireless classroom microphone that has these terms:
Wireless microphones transmit automatically by pairing with the receiver that is plugged into the recording device.
This is important for an educator or an instructional coach modeling a lesson who needs to move around a classroom.
A lavalier, or "lapel", microphone is small, light, and can be easily clipped easily to a person's clothes or placed out of the way near a student workstation.
A wireless classroom microphone that operates in 2.4g (gigahertz) will deliver high-quality teacher and student audio and has a range wide enough for all corners of a classroom.
Classrooms can be noisy when students are engaged in learning and dual microphones are perfect for capturing clear audio in environments with background noise.
Finding the right classroom wireless microphone is important to enable video recording and review of classroom instruction, which can be a strong form of professional development for teachers.
Remember these key features the next time you're recording classroom audio.