What Positive Psychology Has to Do with Supporting Teacher Well-Being
If you support teachers, that means you are supporting teacher well-being.
Why is teacher well-being important? Teachers' ability to sustain their work is crucial to teacher improvement, and ultimately student outcomes.
"We've kind of accepted the idea that sometimes to achieve certain academic outcomes, there's gonna be a cost to well-being," remarked executive coach Christian van Nieuwerburgh. "I don't agree." 
Christian, the Global Director of Growth Coaching International, suggests that those who support teachers consider supporting teacher well-being as part of their role.
And what does that involve? Positive psychology.
In this PLtogether Lounge Talk, Christian talked with Edthena founder and CEO Adam Geller about how coaches can help teachers achieve their goals AND support how they're really doing.
Check out the conversation above, or continue reading for highlights including what positive psychology has to do with supporting teacher well-being.
Positive psychology is about enhancing well-being for teachers
Also a Professor of Coaching and Positive Psychology, Christian van Nieuwerburgh is well-versed in the area of research called positive psychology.
Instead of focusing on people's weaknesses, positive psychology looks at their positive attributes.
"It's the science of optimal functioning. what we can do to make life even better for people? It's a science about enhancing well-being," he said.
Christian also noted that coaching is the science of helping people to successfully navigate change and flourish.
Positive psychology and coaching don't need to be separate for teachers. The two sciences together can better support teacher well-being.
Check out this resource from Christian van Nieuwerburgh to make a mental health well-being plan.
"We should integrate the two because coaching should be how we help teachers to perform better, but also how we support teachers to experience well-being," emphasized Christian.
More learning can happen when teachers feel comfortable and believe they are making progress.
Two ways to use positive psychology when supporting teacher well-being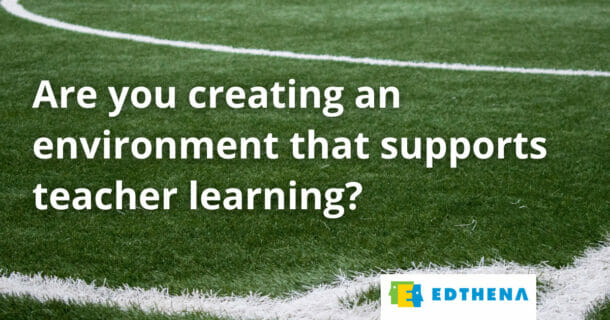 Christian reflected, "Coaching is a supportive role. When I'm a coach, I think my primary role is to create the best possible environment for learning to take place."
So what can teacher coaches do to incorporate positive psychology into their coaching practices?
Strategy 1: Show genuine interest
Christian's first strategy is simply to tell teachers that you're interested in their well-being.
"I say to them,  'I'm interested in supporting you to achieve your goals but I also have an interest in your well-being,'" said Christian.
This can make it easier for coaches to check in more often on how teachers are doing, beyond just their goals.
Strategy 2: Highlight the positives
A second strategy for using positive psychology is what Christian calls "a bias toward the positive."
"As I'm listening to the person I'm coaching, I'm highlighting the positives," he explained.
Another question coaches can ask teachers is: "What do you need to be doing so that you're at your best when you're in the classroom?"
Ultimately, when we support the emotional well-being of teachers, we can positively impact student learning.
Teacher outcomes don't have to come at the expense of teacher well-being
Coaches and school leaders support teacher improvement. But that can't come at the expense of teacher well-being.
"We have to be very careful that coaches don't end up damaging the well-being of the [teachers] they're working with," warned Christian.
For coaches and school leaders, positive psychology can be a helpful framework for supporting teachers' work as well as the teachers themselves.
Interested in more from Christian van Nieuwerburgh? Check out the full playlist of our conversations with Christian.
If you're interested in supporting teacher well-being and instructional growth, read this blog post on evocative coaching.