What We're Reading: 3 Resources for Implementing Edtech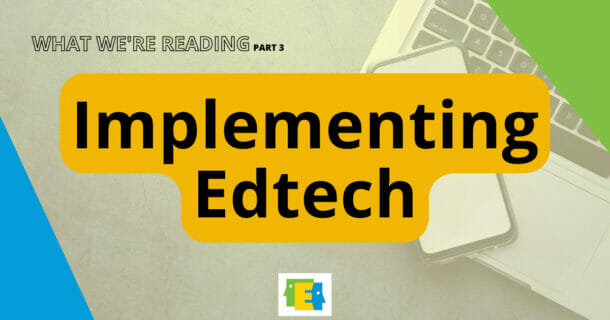 Nowadays, an important responsibility of administrating student and teacher learning includes implementing edtech for a school or district.
Schools use many edtech tools and platforms, ranging from student-facing note-taking apps to teacher-facing AI-driven grading platforms. But it's time-consuming for leaders to help integrate technology efficiently with already-existing school processes.
We've rounded up three resources for implementing edtech, including AI tech tools teachers can use right now.
Check out the highlights of what we've been reading below.
Implementing edtech means thinking about the before, during, and after of rollout
This recent Edutopia article focused on the three steps school administrators need to ensure a smoother rollout of new edtech to teachers.
After choosing edtech for their school, admin should consider how they will support teachers in actually using those tech tools and platforms.
Here is an overview of the three steps for implementing edtech:
Step 1: Share Information Early

In selecting a new tool to add to your edtech portfolio, you've identified a need and determined which tool works best in your context. Before you roll this tool out, you can build buy-in and excitement by sharing targeted and relevant information. Doing so may require you to develop and execute a communications plan, to tell people who, how, when, and what.
Step 2: Tailor Your Rollout
In addition to your first communications about a new edtech tool, the first training you provide on this tool can be a powerful way to support its effective use. Your rollout should provide differentiated access points and build the confidence your participants need to start using the new tool. In planning for a robust rollout process, you must examine how you define proficiency, differentiate resources, and provide accessible learning opportunities.
Best practices for tech integration PD includes promoting teacher agency
Implementing edtech means showing teachers what that edtech tool or platform looks like and how it will be used.
School administrators should consider how they will support teachers to learn new technology and develop shared schoolwide student learning goals.
This ASCD article about tech integration PD highlights seven key elements that successful edtech implementation needs.
Here are the seven best practices for teacher PD when implementing edtech:
Collaborative—Teachers collaborate on projects in groups of various sizes during workshops and collaborate with their coach during one-on-one or small-group coaching sessions (Darling-Hammond et al., 2017).

Learner-Centered—Adult learners are treated like adults, while engaging in similar ways to how their K–8 students could be expected to participate (Darling-Hammond et al., 2017).

Promotes Learner Agency—Teachers select their own learning goals connected to key components of the program and determine how they incorporate the goal into their instructional practice (Desimone et al., 2002).

Promotes Technology-Enhanced Learning—Teachers utilize new and familiar digital technology to accomplish shared learning goals, rather than simply learning about how to use the digital technology (Ertmer & Ottenbreit-Leftwich, 2013).

Reflective—Teachers reflect on their learning through group conversations and one-on-one coaching conversations (Ottenbreit-Leftwich et al., 2020)

Sustained—Teachers engage in learning and reflection over a sustained period of time, often including multiple workshops/meetings and one-on-one or small-group coaching sessions (Darling-Hammond et al., 2017).

Voluntary Participation—Teachers voluntarily apply to participate in the program and select their own learning goals based upon the objectives of the program (Bakhshaei et al., 2018).
Read more about how edtech can enhance teacher collaboration: The 3 R's of Strong Teacher Collaboration within the AI Coach Platform
Getting started with easy-to-implement AI tools
We admit, we love this resource on AI tools from Edthena founder Adam Geller in this Getting Smart article.
Implementing edtech for teachers is especially impactful when the tech tools chosen help teachers save time.
With recent advances in AI applications for educators, school leaders see how AI-based edtech can help make teacher tasks more efficient.
For administrators implementing edtech, AI tools save time because they can automatically personalize support for different teachers.
In the article, Adam identifies three ways AI can speed up teachers' work.
Check out the full list of ways at Getting Smart: Three Ways AI Can Help Teachers Save Time Now
Missed the last edition of What We're Reading? Check out our recent resources and highlights on teacher professional development.