Resources for Teachers and Instructional Coaches – November 2022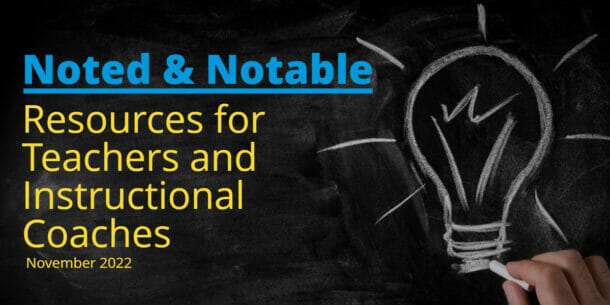 Finishing out 2022 strong in your classroom? You'll need to key in on what your students need.
We've rounded up recent resources for teachers and included highlights here.
These three reads are all centered on students. From building relationships with students to differentiating instruction and scaffolding mathematical discourse, teachers and the coaches who support them (and students!) can strengthen classroom instruction with these resources.
Keep reading for our top picks for the November 2022 reads to catch up on. Check out highlights, article links, and related content below.
Responding to students' diverse needs
Teachers understand the different challenges each learner may need to master to thrive and sustain their intrinsic motivation to discover the world around them.
For different students, learning can look and feel different. For example, students' learning readiness and interests likely vary.
This Edutopia article provides 4 differentiation strategies so teachers can help students build on what they already know.
Here are the first two strategies to differentiate instruction "to successfully meet learners where they are."
Process
This is how the learners will work in order to learn the content (concepts, competencies, and information) in a meaningful way.

One possible strategy might be to group learners according to the content they want to learn and plan different activities on the topic at hand using Bloom's Taxonomy as a reference. Some learners, therefore, will be working on understanding the topic and remembering some key vocabulary, while others may be working on analyzing or evaluating different aspects of the same topic.

Products
In this area, differentiation is possible by varying how the learners will show they've learned the content (concepts, competencies, and information), through applying the learned knowledge and even extending that content.

The teacher will need to let go of some control and allow learners to show their learning through a wide diversity of evidence of achievement, and then invite the learners to use different resources such as a game, a dramatic play, a poster exhibition, or a podcast, according to the learning process they went through
Read the rest of the student differentiation strategies at Edutopia: Responding to the Needs of Every Young Learner
Differentiation is important for teachers, not just students. Thinking about personalized professional development? Learn more about personalized support in AI Coach by Edthena.
Supporting rich mathematical discourse in your classroom
The key to mathematical discourse is a shift that takes place in the role of the teacher from giver of knowledge to facilitator of thinking, enabling students to take ownership of their learning. This, in turn, allows students to make conjectures, connect prior knowledge to current understanding, reason mathematically, and refine and amend problem-solving approaches.
This ASCD article notes that meaningful mathematical discourse is one of the eight effective mathematics teaching practices, as defined by the National Council of Teachers of Mathematics (NCTM).
But where to begin when incorporate mathematical discourse into your classroom? This resource for teachers has several strategies, including
1. Use academic language scripts to provide students with the formal language needed to engage in academic discourse. Intentionally embed opportunities for students to use the language of math to describe their thinking about math. Examples include: 

I attempted to answer this problem by _________.  

I discovered ________ while answering this problem. 

2. Create communal word banks of high-leverage, content-specific academic vocabulary to assist students in expressing their mathematical thinking. Word banks should be visible, accessible to students, and collaborative. They anchor and support the mathematical content students are currently learning. A communal word bank in a 4th grade classroom could include:

add
formula
compare
digit
algorithm
equation
data
formula
To read more of the strategies for supporting strong mathematical discourse, check out the full article at ASCD: 3 Strategies for Scaffolding Mathematical Discourse in Your Classroom
Want to try a free guided coaching cycle on facilitating student discussion?  Get AI Coach access here.
Building relationships with students who are different from you
Strong teacher-student relationships are crucial to classroom instruction. This can be tricky when students and teachers are culturally different from each other.
This Chalkbeat article is a great resource for teachers thinking about culturally responsive teaching as the foundation for building great relationships with students.
The article describes that "Culturally responsive teaching requires us to face our biases and bridge the gap between our own lived experiences and that of our students."
Here are some of the ways noted for bridging that gap:
Focus on the future by inspiring a shared vision. When students attend schools where their culture isn't reflected, they are less likely to engage in the classroom, which leads to further disconnect from academic success.If your students are disengaged, instead of jumping into a conversation about cultural differences, start by finding common ground. Ask them about their goals and dreams, and how they hope to reach them.
Model the way. If you want more conversation with students who have a different cultural background, create lesson plans that encourage discourse. Share your own cultural background and experience.
Focus on caring for and encouraging students. Teacher-leaders are often placed in positions of authority over their students. Use your wisdom and experience to find ways to identify the contributions of all your students to lead to long-term classroom and community success.
Read the whole post about culturally responsive teaching at Chalkbeat: How do I build relationships with students who are culturally different from me?
Watch culturally responsive teaching expert Zaretta Hammond discuss how to combat learning loss by embracing productive struggle.
Did you miss last month's edition of resources for teachers and coaches? Catch up on the October 2022 top resources for teachers and coaches!