Not a Tech Expert? Not a Problem. How Principals Can Choose the Best Edtech for Teachers
Principals wear a lot of hats but 'tech expert' isn't always one of them. So how can school leaders help roll out the best and right edtech for teachers in their building?
According to Monica Burns, ClassTechTips.com founder, school leaders don't need to know the ins and outs of every app on the market to support edtech for teachers.
In this PLtogether Lounge Talk with Edthena founder and CEO Adam Geller, the two talked about best practices for strong classroom technology integration and usage.
Watch the video above for the full conversation or continue reading highlights of what the EdTech Essentials author Monica Burns told us, including how school leaders can prioritize edtech initiatives.
Limit edtech for teachers to one initiative at a time
From instructional support coaches to school- and district-level leaders, there are many folks supporting teachers with resources and technologies.
But often, the problem is that too many edtech initiatives are being pushed out at once and this can feel overwhelming for educators.
Monica advised school leaders, "Make sure the use of technology is happening in a strategic and robust way."
This involves first talking about the primary goals and priorities of an edtech initiative. Which schoolwide instructional areas should be targeted with technology integration?
To help narrow down these goals and priorities, Monica suggested identifying an area of strength in the building, where adding edtech for teachers could take teaching to the next level.
For example, "If there's a school where they're looking to increase their use of formative assessment routines and being really purposeful about gathering information and pivoting instruction, based on that, we might look at strategies for using technology specifically around formative assessment," said Monica.
Another idea to help technology initiatives feel more feasible and gain traction is with a "train the trainer" model.
A few self-selected educators can test out a new tech tool first and then share it with the rest of the grade-level team or department.
In these ways, school leaders are being strategic: amplifying an already-strong instructional area with technology, and piloting an edtech initiative with a few key people.
Decision-making for technology usage should be transparent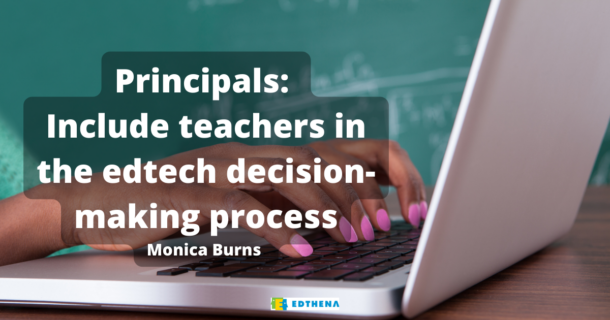 School leaders often make the decisions about which technology tools a building will use, but what about the teachers actually using those tools? Edtech for teachers must involve the teachers themselves.
Monica Burns told us, "It's really important [for school leaders] to have open lines of communication and transparency throughout the entire process of recommending or sharing different tools."
Perhaps a principal has chosen a student attendance app specifically for its privacy settings. Teachers should be aware of the strengths and reasons for investing in a particular tool.
"It's [also] important to listen to your community members, listen to folks who have used different things, include them in the decision-making process, but then be very transparent and clear about the why behind choosing a tool," noted Monica Burns.
Helping teachers feel a sense of autonomy and clarity about tech initiatives is key to more successful usage.
What if school leaders don't know which edtech for teachers is the best to use?
Monica said, "If you don't feel like you have all the information to make a decision, it's a good opportunity to empower other folks in your school community to come on board, have conversations … even if you are ultimately making the final decision."
Involving as many people in the edtech decision-making process as possible is a great way to ensure more technology usage.
Teacher tech can lead to teacher success
Teacher tech is on the rise and many educators feel the push to incorporate more technology into classrooms.
School leaders can support their teachers to use tech tools with fidelity by prioritizing edtech initiatives and ensuring decision-making transparency.
Interested in other insights from Monica Burns? Learn more in this blog post about choosing classroom edtech.