Always missing a tripod? This piece of paper can be your secret weapon for classroom video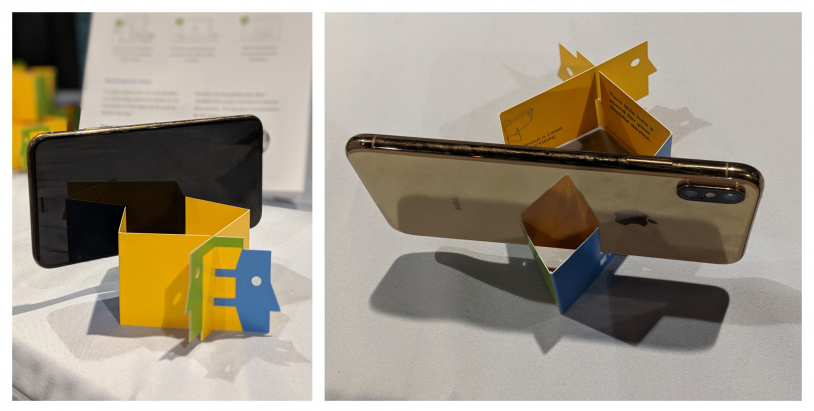 Before teachers log in to leave comments on their Edthena videos, they must first capture classroom video using any available device in their classroom.
And when we say "any device," we mean it. We see a lot. of. device. types.
No matter what device a teacher is using to record classroom video, it needs to be firmly planted on a surface to capture video.
After all, no one wants to watch a video lesson that resembles The Blair Witch Project aesthetic.
If a teacher is using a laptop like a Chromebook to record a lesson, the computer lid acts as the stabilizer.
But if it's a mobile phone or tablet, a tripod plan must be in place.
Mobile device video tripods can be great, but they can be expensive and device specific.
Leaning a device against some books on a bookshelf is a decent option, too.
But we are writing you today with another solution we developed: a folding tripod made of paper.
Yes, a piece of paper can act as a phone tripod or tablet tripod for capturing classroom video used for instructional coaching and other teacher professional development.
It turns out that everyone's high-school geometry teacher was right about how triangles are really stable and strong.
Ok, so this might be one of those inventions that when you see it you ask, "That's an invention?"
The truth is, yes, we invented this. It didn't exist previously.
Sometimes the best inventions are the ones that feel obvious after you see them because they solve a real problem. Case in point: Snuggie.
Now if you're thinking "How do I get one of those fine, fine pieces of folding paper," we have good news: We're happy to share with Edthena partners.
Not yet an Edthena partner school or district? Email [email protected] to see if we can help you meet your professional learning goals.
And to ensure we make our lawyers happy, please note that the invention described is patent pending and marked accordingly.