Need Organizing Superpowers for Your Coaching? Try a Coaching Management System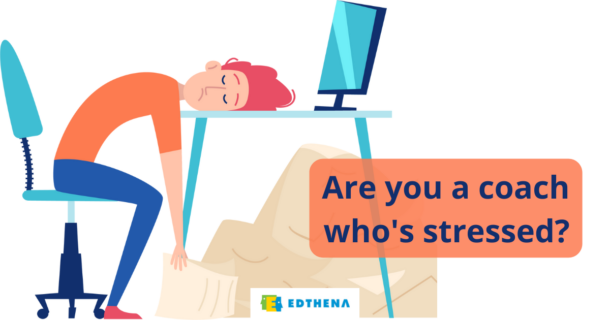 Organization is crucial for effective coaching but is difficult to achieve unless you have a coaching management system in place. A notebook filled with observation dates isn't going to cut it when you're coaching dozens of teachers.
Just like a learning management system (LMS) for teachers, coaches can benefit from a coaching management system. A coaching management system provides the structure to help coaches save time and organize their work of supporting teachers. 
The Edthena Video Coaching platform has just that in a toolset called Explorations.
Explorations is a feature that enables structure for coaches to design and coordinate coaching and feedback cycles, whether they're 1:1 or collaborative.
We think Explorations give coaches organizing superpowers, by providing tools to design a variety of professional learning experiences for teachers and also facilitate efficient and timely feedback.
Keep reading for three ways coaches can stay organized using Explorations, including keeping track of all the teachers they support.
Instructional coaches can stay organized, even supporting many teachers
If you're a middle school teacher with five periods, you don't want 100 students handing in their homework onto your desk in a big pile.
Just like teachers organize the work students submit into separate, labeled bins, instructional coaches can organize artifacts of teaching and learning they receive from teachers.
The Explorations feature inside Edthena Video Coaching gives teachers an organized process for sharing their teaching videos and other artifacts such as lesson plans and student work samples for discussion and feedback.
As a teacher coach, you can organize learning cycles focused on the same skill, such as checks for understanding, and teachers working on that skill are grouped together.
That goes for coaching by grade levels or department teams, too. Perhaps the middle school ELA department wants to work on improving their Socratic seminars. Teachers in the same content area – or grade level or however else you choose to organize your coaching – stay grouped together, including all their teaching artifacts.
This makes it easier for teachers to submit their teaching videos for feedback and request coaches' feedback. Teachers don't have to worry about their video ending up in the wrong "bin".
Coaching is made more efficient and organized even when an instructional coach has multiple groups of teachers they're coaching.
Quickly know which teachers are ready for your feedback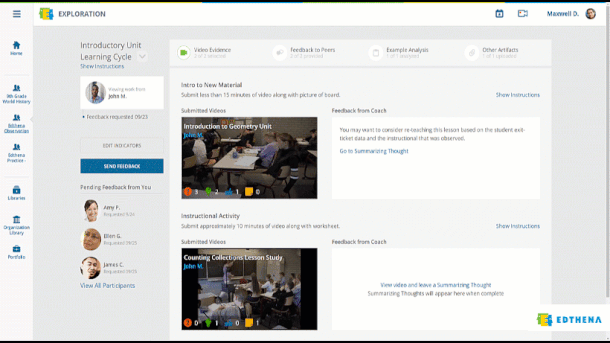 When the school year is in full swing, coaches have likely done multiple observations and teachers have begun implementing classroom changes.
Teachers may be sending you their teaching videos for further feedback. Keeping your inbox at zero is the goal, but not always realistic when you have multiple teachers' videos coming in at various times (not to mention dozens of other emails).
What coaches need is a coaching organization system that keeps track of who is ready for feedback and in which order the feedback was requested. It's like a dashboard for coaches to see across all the teachers they're supporting.
Explorations help coaches stay organized by adding a structured process for managing and prioritizing requests from teachers. Think of it as a playlist with a clear queue of teachers ready for feedback.
By using Explorations inside Edthena Video Coaching, instructional coaches can also stay organized in how they're facilitating feedback across multiple groups of teachers or even teachers at different schools.
Saving time by staying organized means you can focus your energy on supporting teacher improvement.
Use different coaching approaches for different teachers with ease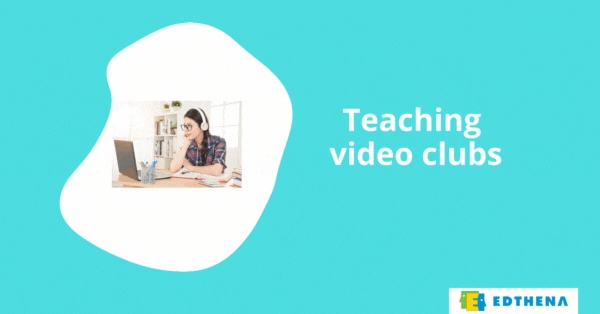 Instructional coaching often begins with 1:1 observations and feedback, but coaching can and should take many forms.
Once you're starting to implement a variety of learning experiences like a skill-building sequence with the kindergarten teachers, a video club for the first-grade team, and artifact analysis with upper elementary, things can begin to feel chaotic.
Without a coaching organization system, it's typical for an instructional coach to be inundated with emails and task lists mixed together across groups.
When coaches use Edthena Video Coaching with Explorations as their coaching management system, they can plan and implement different types of learning experiences with ease.
Perhaps you want to use video as a follow-up to in-person coaching with some teachers and to facilitate virtual group coaching with others. Reviewing peers' artifacts inside of a video coaching platform is another approach for evidence-based learning.
All of this is possible in Explorations by creating separate groups for different teacher teams.
Each group or team's Exploration stays in its own place, so you can organize your coaching.
Provide all your instructional coaches with a coaching management system
Organization can be difficult when there's so much to do and so many teachers to coach.
With Edthena Video Coaching, the Explorations feature helps instructional coaches keep track of teachers' videos, requests for feedback, and professional learning experiences. It's a turnkey solution to coach organization.
A coaching management system helps coaches focus their attention on supporting teachers.
Keep calm and coach on.
Learn more about the Explorations feature inside Edthena Video Coaching.
Check out why expert Jim Knight says video coaching is integral to instructional coaching.