Fixing Classroom Problems? Coaches Actually Just Need to Use Expansive Listening
Expansive listening is listening with curiosity and compassion

Instructional coach Nita Creekmore uses expansive listening as the key to empowering teachers

Teachers need more than solutions; they need to be listened to
Are you coaching teachers without making a connection? It might be time to try expansive listening.
In our recent conversation with Nita Creekmore, founder of Love Teach Bless, the experienced instructional coach talked about how coaches can really show teachers they're listening.
And that's not just regular listening, simply hearing what the other person is saying. Expansive listening is listening with true curiosity and compassion.
In this PLtogether Lounge Talk with Nita and Edthena founder and CEO Adam Geller, the two discuss how to better support teachers using expansive listening.
Check out the full conversation above, or continue reading for highlights, including how to empower teachers through listening.
Listen, really listen, to what teachers are saying
"Teachers don't feel heard," emphasized Nita.
As someone who supports teachers and schools day-to-day, Nita thinks about how to truly address the needs of educators.
It's not by offering all the solutions or fixing classroom problems, like you might think.
In fact, Nita spends most of her coaching time listening to what teachers have to say with expansive listening.
Expansive listening, according to expert Elena Aguilar, is not just an act where:
"We maintained silence while the other person spoke, and when they stopped, we paused, praising ourselves for withholding for two seconds, and then we said what we thought we had to say."
Expansive listening does include these practices:
Don't hurry your questions.
Take deep breaths while you listen.
When the other person finishes talking, say, "Thank you. Tell me more."
Don't talk too much — not more than a third of the total time.
These are the principles that Nita Creekmore uses in her listening.
"A lot of expansive listening has been empowering [teachers], being a thought partner. … Being someone there that [teachers] can collaborate with, think through things," said Nita.
Especially when teachers have so much on their plates, one impactful way to listen is to hear what teachers say needs to be taken off to respect teachers' time.
How to use expansive listening to empower teachers
Nita Creekmore also talked about how many teachers feel disempowered.
Whether it's because of frequent curriculum changes or not feeling in control of their classroom, teachers might not feel like they can affect positive change.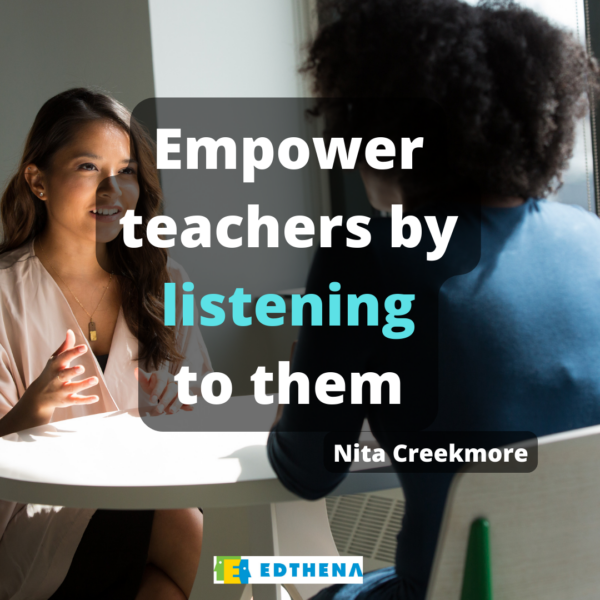 Nita stated about using expansive listening, "I'm there to facilitate conversation and to empower [teachers] so that they can make change that needs to be made."
When Nita Creekmore truly listens to the heart of what teachers are saying and feeling, it gives her the ability to help teachers identify strengths even when they are overwhelmed.
Seeing teachers as humans first is at the core of expansive listening and is how teachers can begin to feel empowered again, particularly when they can control what you're hearing from them.
Instructional coaching isn't just about fixing problems
For an experienced instructional coach like Nita Creekmore, it's clear that a coach trying to offer up all the answers to teachers isn't the end-all, be-all to supporting teachers well.
The key to effective coaching is opening the communication up to hear what teachers need according to their own reflections.
Expansive listening is a way for coaches to listen with more flexibility, and less fixing.
Check out our other conversations with Nita Creekmore.
Want more insights into supporting teachers? Read our blog post about Evocative Coaching.