How Choice Boards Energize Teachers for Professional Development and Video Reflection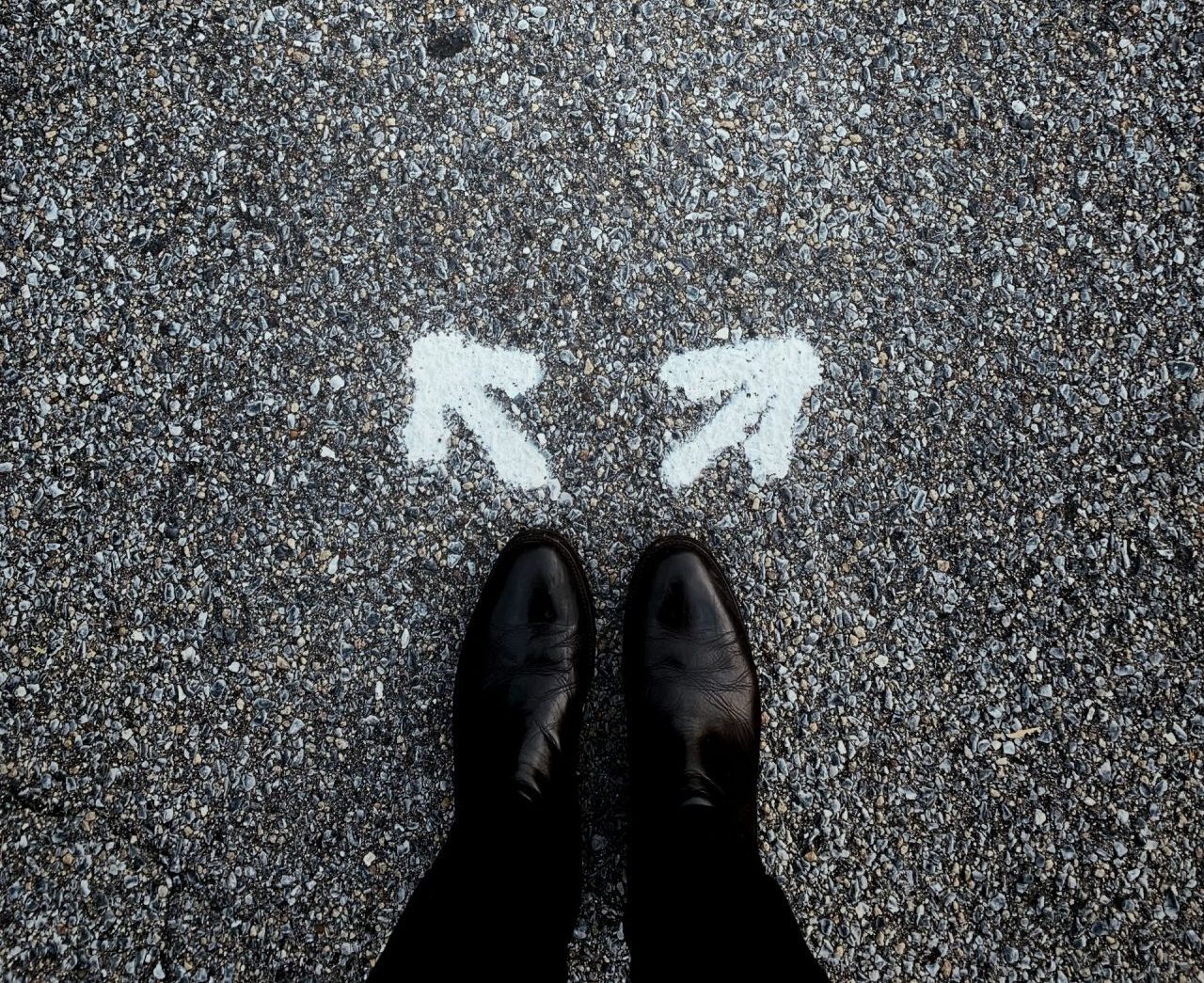 Part of the fun of dining at a restaurant is choosing your food. It's possible to create this type of experience within the professional development realm, too. Choice boards, a strategy sometimes used for students in classrooms, can be reimagined to create a menu of options within teacher professional development.
As leaders design and implement teacher PD that's more flexible, allowing teachers to have a voice in their PD is a needed and powerful strategy. Choice boards explicitly give teachers a voice by giving them choice in their own professional development. It's like a menu, but for professional development experiences.
Valerie Minor, the coordinator of professional development and mentoring services at Keller Independent School District (TX), uses video coaching and choice boards to support professional learning across the district. This combination empowers teachers to choose how to analyze their teaching, receive feedback, and improve their teaching craft.
What are choice boards, and how are they used for teacher professional development?
Teacher professional development should not be a one-size-fits-all approach. If you value personalized learning for students, then personalized professional learning is the parallel for teachers in your district.
Many districts are focused on personalized professional development to meet the needs of individual teachers, but they may be struggling to bring that idea to life in a scalable way. A choice board can focus on one priority area while still allowing teachers the flexibility to choose their learning path.
An example of the video coaching teacher choice board that first-year teachers use at Keller ISD. In their model, the year moves through multiple phases. Teachers can choose how they would like to implement video coaching into their learning plans during each phase of the year.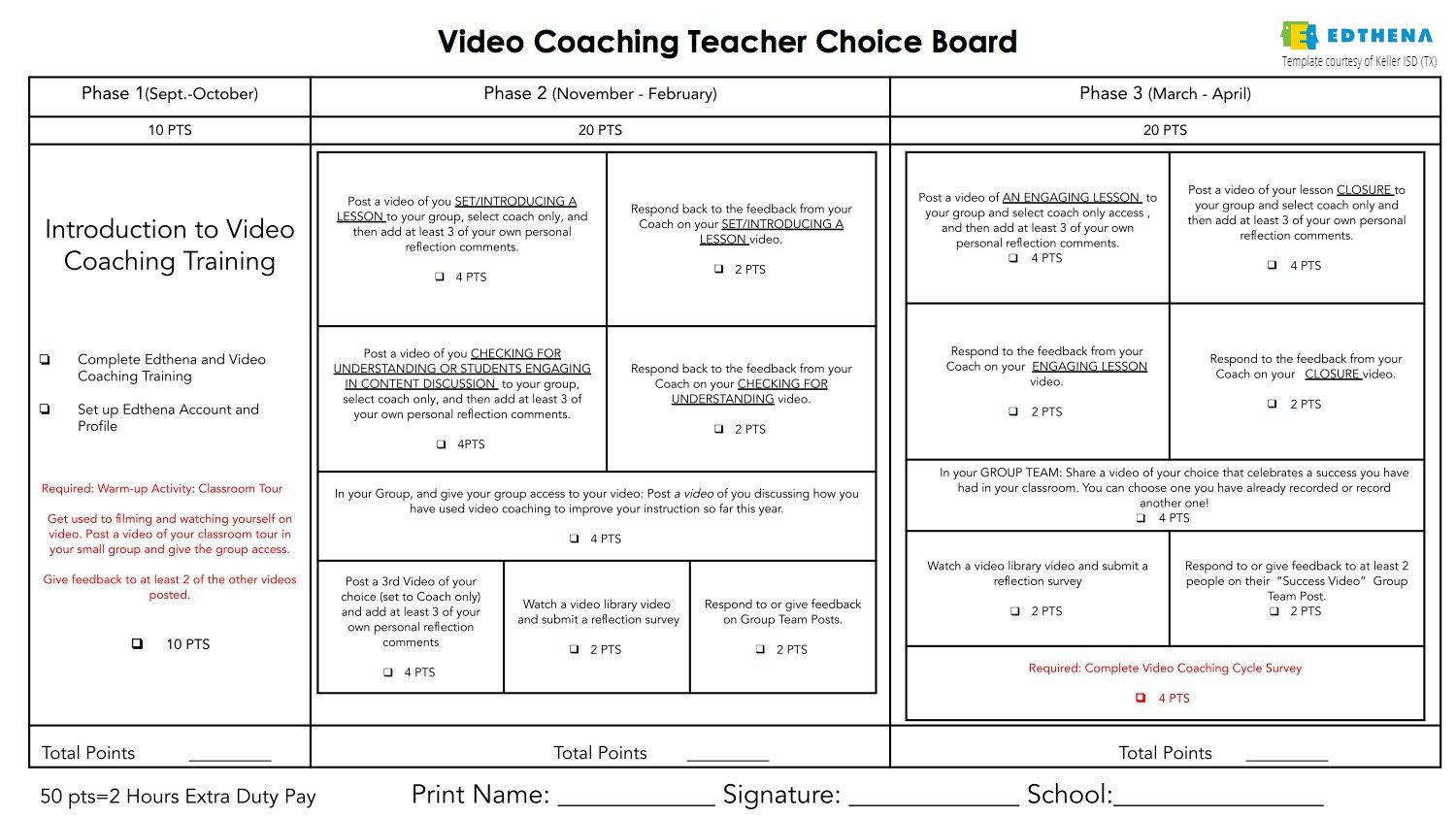 What benefits come from allowing teachers a choice in PD?
Choice boards provide a way to differentiate your professional development offerings for your teachers. When provided a choice board, teachers are able to select how they will learn. This method ultimately engenders ownership around their professional learning.
"Adult Learning Theory is grounded in choice," says Valerie.
Beginning her own career as a project-based learning (PBL) teacher, Valerie grounds her professional development design PBL, too. Choice boards are a form of PBL for teachers because they allow teachers to select PD they believe will benefit them and build their own learning experiences along the way.
Another advantage of providing teachers with choices in PD is that it naturally creates personalized professional learning plans. When teachers choose when to share the instructional videos and what type of instruction they would like to share, their instructional coaches can create a personalized learning plan that directly correlates with their teacher's goals. Focused learning plans will show a more direct impact on student achievement. 
When Valerie created this choice board implementation method, she used it with first-year teachers. These first-year teachers were given options to record their teaching videos and watch experienced educators deliver instruction. This approach produced more flexibility for her teachers to address their own needs while allowing Valerie to build more targeted coaching cycles. First-year teachers are an excellent fit for this type of initiative because many already need a personalized professional learning plan.
Interested in supporting teachers with effective video observation feedback?
See the Edthena commenting tools
How to use choice boards for teacher professional development?
The activities that teachers can choose on a teacher choice board should be designed with the end goal of professional development in mind. Each of these choices should be relevant and based on the needs of the teachers. For example, if the overall initiative focuses on video coaching, an activity reading another teacher's lesson plan might not be pertinent. However, a teacher could choose an activity in which they watch a recorded video of another teacher discussing the steps taken to create the lesson plans.
To ensure success for this type of initiative, the leader can start by sharing all of the activities to choose from on the board at an initial meeting.  The teachers can then be given their boards at this meeting to begin selecting what activity can support their professional learning.
Another strategy that can lead to increased enthusiasm and pairs well with the choice board activity is to provide teacher incentives to complete choice board phases. Valerie facilitated this incentive-based structure through her choice board initiative at Keller ISD.
When implementing video coaching in your district, using choice boards can be a blueprint for creating consistent coaching cycles while providing flexibility for your teachers. Ultimately, this flexibility will produce personalized professional development plans for teachers as they choose the exact type of PD they would like to complete. Given the lack of choices that many teachers are experiencing this school year, creativity and flexibility are necessary for teacher professional development. The choice board can provide that structure.
Like what you're reading? Check out a recent article in this series about how instructional coaches can provide feedback on online office hours.