2 Ways to Address Teacher Burnout and Build Hope, with Jim Knight
Teacher stress, teacher burnout, and teacher turnover – these are not new terms to most schools or educators.
Teachers, supported by instructional coaches and school leaders, must be able to build hope and agency.
According to author Jim Knight in this PLtogether Lounge Talk, making "the invisible visible" is key for educators building hope.
In this discussion with Edthena founder and CEO Adam Geller, the two discussed how teachers can use classroom data to address teaching burnout and stress.
Watch the full conversation above. Or continue reading for highlights, including what instructional coaching expert Jim Knight says is the most powerful form of classroom data for combatting teacher burnout.
Where to start? Jim Knight says help teachers see their own teaching
In his book "The Definitive Guide to Instructional Coaching," Jim talks about an integral element of supporting teachers:
"Establishing a clear picture of reality."
According to Jim Knight, "Data makes the invisible visible. Video is the most efficient and powerful way to do that."
What does Jim mean by "making the invisible visible"?
When teachers are teaching, they cannot observe themselves. By using video to record and watch back their instruction, teachers are able to see their classroom through an external lens.
In addition, video can provide powerful data about students that may not otherwise be noticeable in the moment while teaching.
For example, Jim Knight cited a teacher who, when watching back video of their classroom, saw that none of her multilinguistic students were participating.
"Kids who hadn't been seen, were seen," remarked Jim.
Video may not capture everything going on in a classroom, but the information it does provide is powerful.
Using video may even help educators, instructional coaches, and school leaders ask questions that were not being asked about students.
Being able to see the reality of their classroom and teaching helps teachers begin to address feelings of stress and burnout.
Seeing classroom progress on video helps address teacher burnout
Using video is an effective and efficient way to see what is actually happening during teaching. But how does this help address teacher burnout and stress?
Teachers can often feel stressed when trying new classroom strategies with unclear results. In addition, an inability to see instructional progress can cause teacher burnout.
Jim referred to the work of Teresa Amabile, author of "The Progress Principle." When teachers can see progress being made, they are more likely to be motivated.
Perhaps a teacher records their classroom at the beginning of the month and sees that student time-on-task is at 60%.
At the end of the month, measuring a 20% increase in student time-on-task helps the teacher see that progress is being made.
"Even if the data is not perfect," said Jim, "it's showing you that you are headed in the right direction."
Video is a powerful mechanism for collecting classroom data that helps teachers build hope about the instructional progress they are making.
Creating a pathway to setting and achieving classroom goals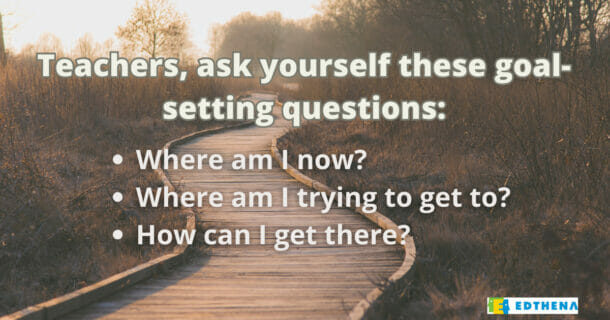 Teacher burnout often leaves teachers feeling hopeless.
Jim Knight shared, "[Video] data can bring hope because data helps you see a goal."
Citing the work of "Making Hope Happen" author Shane Lopez, Jim broke down the elements required for feelings of hope:
"Hope involves a goal, a pathway to the goal, and a belief (agency) that the path will get you there."
Teachers can ask themselves these questions:
Where am I now?
Where am I trying to get to?
How can I get there?
Watching back video of classroom teaching illuminates the answer to the first question.
Faced with teacher burnout, it can be tempting for educators to avoid unpleasant situations in their classrooms.
But with video, Jim Knight suggests to teachers that seeing their current situation helps them move forward.
Watching their own teaching can give teachers the agency they need to make a classroom change or set an instructional goal. This supports teachers to develop hope to be successful.
Video's role in addressing teacher burnout
Video provides the classroom and teaching data that teachers need to see their current reality accurately, and without judgment.
By using video's ability to "make the invisible visible", teachers are able to measure classroom progress and create a pathway to a goal. These are key to teachers combatting stress and burnout.
Looking for more from instructional coaching expert Jim Knight? Check out our playlist of conversations with Jim Knight.
Watch your own classroom video to see your instructional progress: Try AI Coach for free