Resources for Teachers and Instructional Coaches – January 2022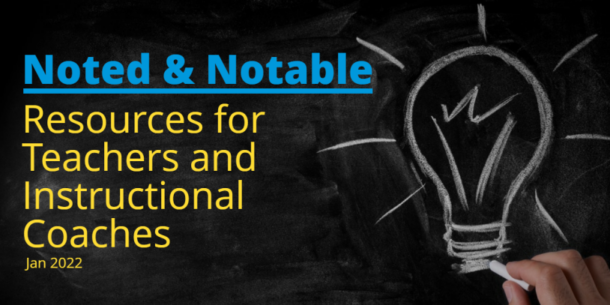 It's the start of a new year, and we've rounded up this month's top resources for teachers and coaches! This edition of noted and notable content for educators includes edtech predictions for 2022, how school leaders can foster safe spaces, and resources for teachers on being lifelong learners.
Our top picks for important January reads are below, with the highlights, article links, and related content for you.
Unsure of what'll be big this year in edtech? Here's what to pay attention to
With so much uncertainty, it can feel hard to know what's on the horizon for schools. However, there are plenty of edtech trends to follow for 2022.
This eSchool News article collects 65 predictions for this upcoming year. Here's one from Edthena founder and CEO Adam Geller:
District leaders are telling us they're looking for ways to ensure teachers feel supported in their classrooms — even when there are fewer coaches to provide support. This has meant conversations with us about streamlining feedback to teachers and increasing teacher-teacher collaboration. We're discussing how to strategically implement video feedback "now" and replicate successful models from other districts.
Read the full post at eSchool News: 65 predictions about edtech, equity, and learning in 2022
And here are edtech predictions for higher ed. 
3 keys for teachers to continuously improve their practice
Educators have often heard or described themselves with the phrase "lifelong learners." Part of that involves not just what is being learned, but how it is learned. Here are 3 strategies to evolve in the practice of learning.
1. Reframe our mindset. One strategy to unlearning is to embrace the mindset of continuous improvement. In our ever-changing world, the way we learn needs to continuously adapt to leverage new possibilities, not because we aren't good enough but because we have even more opportunities to be better.
2. Be less helpful. It is often part of our identity as educators to be helpful, provide answers, and solve problems. However, when we burden ourselves with that hero mentality, we can miss out on the opportunity to learn from others, and we aren't building capacity in others.
3. Ask more questions. We need to evolve the way we learn because the world has evolved, and we have new and different opportunities to learn now. When we move outside our building and our role/content area to gain a new perspective, there are even more options. We can use social media, read, and listen to podcasts.
Read more about the 3 strategies and resources for teachers at Edutopia: 3 Keys to Evolving as a Lifelong Learner
Want to learn more about how to continue to learn and grow your practice? Here are 5 assumptions about adult learners.  
Leaders, have you created a psychologically safe school for teachers?
In this Q&A with author Douglas Reeves, he defines "psychological safety" as the fostering of safety around making mistakes. This is crucial for teachers, especially in the third year of teaching in a pandemic.
So what does Reeves say about how school leaders can create a psychologically safe environment in their school? Here are some highlights:
One thing that leaders need to do is replace evaluation with coaching. … That doesn't mean you tolerate bad teaching or unprofessional conduct, but we have to invest far more of our energy in helping good teachers to be great teachers, rather than simply going through the evaluative mechanisms that most states have. A safe environment for mistakes is essential for students and teachers.

We need to ask, "What are things that we can do to help students feel more successful in school, and how can we make sure that there's better teaching and learning, fewer failures, and greater student success?" It's important to get that sequence right with success academically first, and then behavior gets better. If we forget about teaching and learning and just try to get discipline under control, that's a prescription for failure.
Read all the tips at ASCD: Q&A: Douglas Reeves on Psychological Safety
Want to take off that evaluator hat? Here are 4 coaching best practices, to replace evaluation with coaching.
Missed last month's edition of our Noted Content? Catch up on our December 2021 top resources for teachers and coaches! 
Heard about our $1.5M Innovation Fund?