Creative Math Manipulatives: Base-10 Counting with Dry Spaghetti and Twisty Ties
Innovative takeaways were the name of the game at the American Association of Colleges for Teacher Education (AACTE) Annual Meeting in February of this year. Timothy Boerst from the School of Education at the University of Michigan and Meghan Shaughnessy of Boston University presented on "Using Video to Learn to Do the Work of Teaching When Schools are Closed". 
They highlighted the use of Edthena for new methods of teacher education during the COVID-19 pandemic. The creative techniques tried won't be confined to just distance teaching, however. 
Tim noted, "Video can be a resource within the teacher education that happened [both] outside the pandemic and in it." Lessons from the innovations required now will improve the field beyond this time. 
Watch the full presentation above, and read some highlights below. 
Getting creative with math manipulatives
Edthena enabled new ways to approach teacher education, including engagement for pre-service teachers. 
In their presentation, Tim and Meghan provided examples of video use for explaining and modeling core content, analyzing student thinking, and leading class discussions. Video was key to increasing access to changes in teaching and shared materials for colleagues and for easy analysis of instruction.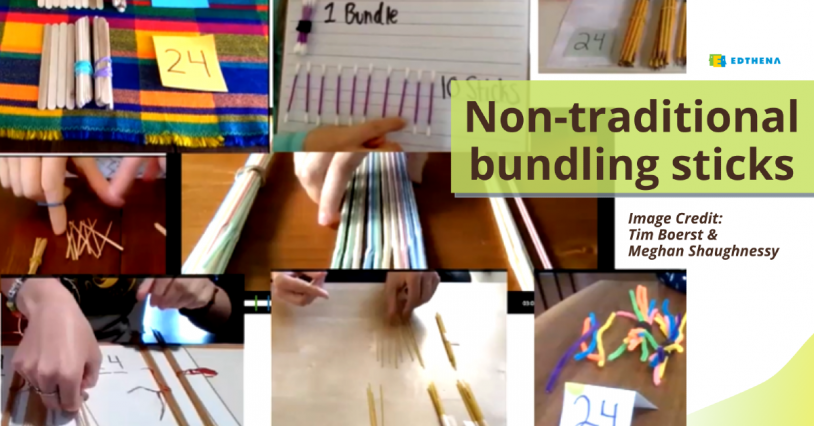 One of the biggest takeaways involved what to do when not all teachers have the same materials for the same content (find this point in the video above at 10:05). 
The question posed to solve was, "How can we work on the practice asynchronously and without common materials?" 
Elementary grade teachers will be familiar with teaching math base-10 skills with tangible 'bundling sticks'- plastic rods that represent the amount of one, bundled in groups of ten, that help students visualize and internalize the relationships in the place value of numbers. But what happens when those math manipulatives are inaccessible or not within a school's budget?
First, Tim created a video demonstration of his own bundling sticks, narrating their purpose. He showed how he simply used wooden craft sticks and rubber bands. Then he invited preservice teachers to get creative when making their own teaching video demonstrations without the usual materials. 
Affirming that this is possible in nontraditional settings or under-resourced classrooms, teachers found that they could use a variety of materials as effective substitutes. Straws, toothpicks, dry spaghetti, pencils, pipe cleaners, scotch tape, twisty ties, and hair elastics all mimicked bundling sticks well enough to teach the standard. 
Takeaways that stand the test of time
Tim reflected, "We learned from each other, while still sort of portraying the core aspects of the explaining or modeling that we wanted to be doing and… enabled the considerations of pros and cons of different materials that could be used to be showing these ideas of place value and number." 
This also underscored an important lesson for teaching: "Perfection should not be the enemy of useful."
Classrooms across the country often look very different, from resources to math manipulatives, and this was a successful query into if educators could still teach important core concepts with different items. Teacher education at home and virtually was able to continue, undeterred. 
In fact, more conversations were initiated about different ways to lay out a teaching space and what available resources could be used in different ways.
Using video to view one another's renditions of bundling sticks, preservice teachers were able to see the benefits and limitations of various materials in addition to learning from each other's instructional practice. 
Video will be a robust tool beyond the pandemic
These insights will carry into the next school year, whatever form or fashion that takes.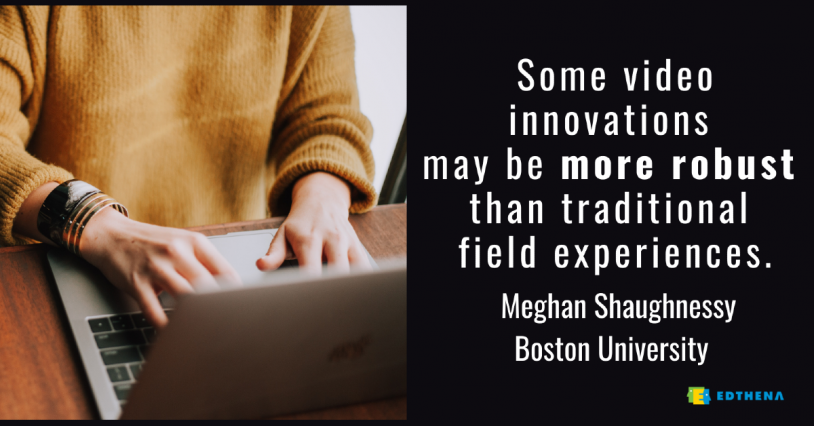 More beyond-the-pandemic lessons learned included reflections on the pre-service teaching programming being done at schools.
Meghan stated, "We've really left the last year feeling like some of the innovations that we've been working on may be equally or more robust than traditional field experiences." 
It's clear that video platforms can support a wider range of teaching education and practice-based learning from collaborating to investigating new lesson materials, in addition to supporting the work of field instructors and course instructors.