Forget Gut Feelings. Look at the Right Information to Measure School Success
School leaders, you know your school's vision, mission, and motto, but do you know how to truly measure school success?
According to the Principal of Stonefields School in Auckland, New Zealand, school leaders shouldn't just trust their gut feelings about how their school is doing.
School leaders need to look at the data to measure school success.
And what data is that?
In this PLtogether Lounge Talk, Edthena founder and CEO Adam Geller and Stonefields' Founding Principal Sarah Martin discussed ways to identify schoolwide improvement and success with a variety of metrics, such as student attendance.
Watch the full discussion above, or read on for highlights of the conversation, including ways to measure school success through student attendance, learner capacity, and family feedback.
Gut feelings don't measure school success
Often, school leaders feel like they are on a quest for how to define student success.
Principal Sarah Martin shared, "When I ask [school leaders] 'What's your impact as a school and how do you know?' … the room falls silent."
School leaders often don't have or are not gathering the information needed to paint an accurate picture of how their school is performing.
That necessary information must be rooted in school and classroom data. Defining the indicators of success in education for students is tightly linked with how to measure achievement.
"We've got to get away from this gut feeling business. Data gives us an opportunity to hypothesize and inquire in a way beyond just having an opinion about something," said Sarah.
Perhaps it's looking at data and trends from education technology such as teacher video coaching, or eliciting feedback through school surveys.
Sarah posed, "How will you know you've delivered [school success] for your learners and your community? What are those key measures?"
It is key for school leaders to know what their vision of school success looks like, but more importantly to think about how they will measure school success.
Three ways to measure school success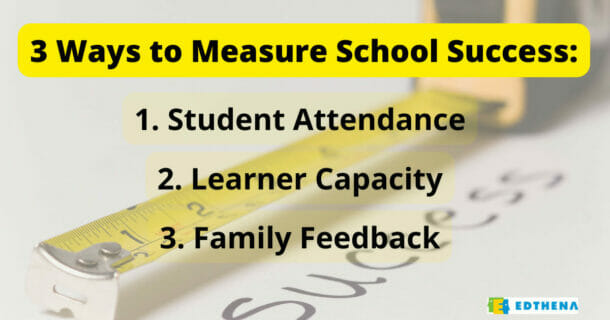 For Founding Principal Sarah Martin, it's clear that her school has a culture of continuous improvement.
So how does Sarah measure school success and know Stonefields School is getting better?
The Auckland principal has three measures of success for schools that she depends on:
Student attendance. "One simple measure of our success is kids turning up … I [also] know in our school, over the ten-year journey, that the longer kids are at our school, the better they do."
Building learner capacity. "It's [students] knowing what to do when [they] don't know what to do. … We've been looking at our learners' ability to be able to reflect, be self-aware, be determined. And we have several learner qualities which we use as part of our reporting to parents, but also to look at how successful we're being over time."
Family feedback. "Do our parents believe that their children are going to a school that does a really good job of educating their children? We have annual surveys and we track common questions to see, are or aren't we meeting the expectations of our community."
Look at facts about your school's performance, not feelings
Your school's mission may be aspirational, but actually measuring the success of that mission is another story.
School leaders must ensure they've identified the right information that will accurately measure school success, and then find ways to collect that data.
Want to see more? Check out this playlist of all our PLtogether Lounge Talks with Founding Principal Sarah Martin. 
Learn more about how Edthena supports school success.